Police's Coastal Executive Unit and two officers awarded
Saturday, June 8th, 2013
The Coastal Executive Unit of the police department received an award for making the most drug interdictions for the month of April within the Eastern Division Section. The Coastal Executive Unit comprises of San Pedro Police and Caye Caulker Police formations. The award was received by the officer commanding the Coastal Executive Unit Superintendent of Police Luis Castellaños on May 17th. Two officers were also awarded for their outstanding work.
Since the month of January 2013, the amount of drugs interdiction on the two islands has increased. According to police 1436.18 grams of drugs were removed off the streets in both communities combined in April.
Speaking of the award, Superintendent Castellaños said that it is a good feeling to know that the work of his officers is making a positive impact and more importantly that it is not gone unnoticed. "It feels good that we got this award. It serves as a motivation for our officers who are doing their best, despite the challenge they face. Yes it is a form of competition between the different police formations but the most important thing is that it motivates us to improve. It recognizes the good work of our officers," said Castellaños.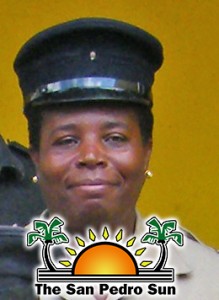 And while the entire Coastal Executive Unit was recognized, two specific offers were also awarded for their outstanding work. Corporal #1426 Luis Rodriguez attached to the San Pedro Police Formation and Woman Police Constable (WPC) Bernadette Ramos (left) attached to the Caye Caulker Police Formation were both awarded for their outstanding performance. "The two officers were awarded for the good work they do. In many instances we have to pause and acknowledge their work. This motivates them and also others," commented Castellaños.
The recognition was given out during a small ceremony in Belize City which had in attendance the top cops of the National Police Department. The San Pedro Sun congratulates the Coastal Executive Unit on their awards as well as WPC Ramos and Corporal Rodriguez. Keep up the good work!
Follow The San Pedro Sun News on Twitter, become a fan on Facebook. Stay updated via RSS