Christmas Message from Officer in Charge, Luis Castellanos
Saturday, December 21st, 2013
To the San Pedro public,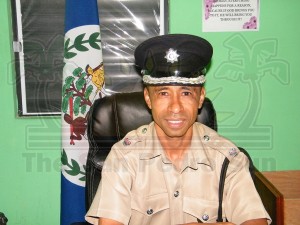 I am pleased to report that since the start of the festive period, crime has been low. For this I am very grateful and hope that it continues on that trend. It is the best gift that can be afforded to this beautiful island.
For the Yuletide season we will endeavor, through targeted EXTRA-PATROL, to ensure that the island of San Pedro continues to be a safe tourist destination, for visiting tourist and a safe haven for the local community.
I also take this opportunity to inform the General Public, that we are cognizant that it is the season to be JOYFUL and MERRY, but that we must be responsible in our actions particularly to avoid, DRINKING AND DRIVING, DRUNK AND DISORDERLY BRAWLS, BOISTERIOUS AND DISORDERLY BEHAVIOURS, THROWING AND BREAKING BOTTLES ON THE PAVEMENT, RECKLESS AND BLATANT DISCHARGE OF FIRE CRACKERS. All in all let us celebrate in peace and respect for each other.
I would like to thank law enforcement partners such as the Coast Guard, Immigration Department, Customs, Labor Department, Forestry Department, and the Mayor His Lordship Daniel Guerrero and his councilors for the continued support to ensure that San Pedro continues to be one of the safest place in the country of Belize.
It is a great privilege for my staff and myself to serve this beautiful Town and I take this opportunity to wish each and every one a very Merry Christmas and a Peaceful and prosperous New Year.
Respectfully
Luis Castellanos Supt LSM
Coastal Executive Officer
Follow The San Pedro Sun News on Twitter, become a fan on Facebook. Stay updated via RSS