Police Report
Sunday, April 27th, 2014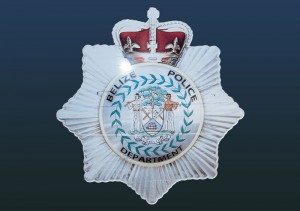 Wounding
On Wednesday, April 16th, Nadir Nuñez, 55-year-old San Pedro Traffic Warden, reported to the San Pedro Police that while out patrolling town core on Pescador Drive, he heard a person insulting him with vulgar words. Nuñez approached the person, identified as Justo Francisco Mar, and confronted him. Mar responded by punching Nuñez on the left cheek. Mar continued to attack Nuñez, who fought back to defend himself. Nuñez immediately called for backup, but Mar fled the area. Nuñez has requested court action. Police have since formally arrested and charged Justo Francisco Mar, 38, for wounding.
Theft
Ivan Staines, 50, reported to the San Pedro Police that on Sunday, April 20th at about 8PM while heading home in the Tres Cocos Area, North Ambergris Caye, he noticed a person running toward the Sir Barry Bowen Bridge with a blue water pump on his shoulder. On seeing Staines the person begun to run faster, and this got him suspicious as he believed that the pump was stolen from one of the properties he manages. Upon arriving at his residence, Staines immediately checked all the houses that he manages and noticed that a similar pump to the one the person had been carrying was missing. He also noticed that the pipe and wiring attached to the pump had been damaged. The estimated value of the pump and repairs amounted to $750. Staines has requested court action. Police are currently searching for a Hispanic male known only as "Chino".
Grievous Harm
Aleyda Sandoval, 32, reported to the San Pedro Police that on Monday, April 21st at about 5PM she was visiting her sister-in-law, Carmita Gonzalez, in the Boca del Rio Area. The complainant stated that whilst sitting down, a lady, identified as Frida Rodriguez, approached her from behind and punched her in the back of her head. Sandoval stood up in order to defend herself but Rodriguez bit her on the left thumb, almost removing the tip of her thumb. Sandoval requested court action. Frida Rodriguez was formally arrested and charged for Grievous Harm.
Common Assault/ Threatening Words
Mishelby Leiva, 20, reported to the San Pedro Police that on Sunday, April 19th, at around 12AM she went to buy food at Central Park, when three females and two males approached her and begun threatening her. One of the females, known as Dorla Morales told Leiva "I will f*%$ you up, you no know where I come from, I am from Dangriga." Morales' sister, Gaby said "And if you touch my sister, I will f*%$ you up too." At this point Leiva's boyfriend, 28-year-old Ruan Nuñez stepped in to calm down the situation. One of the males, identified as Jules Guerrero, approached Leiva with a (pint) bottle and told her to "Shut the f*%$ up or else I will buss this f*%$*% bottle in your face." Nuñez told him to relax, but Guerrero instead responded by throwing the bottle towards Leiva. Leiva dodged it, but the bottle still hit Nuñez in his neck. The other male, identified as Mario Donis, then hit Nuñez on the back of his head directly behind his left ear. Guerrero and Donis were dragged away from the area. While being dragged away, Guerrero shouted "Watch what I will do to you, I will kill you," to Nuñez. Court action has been requested.
Found Property
On Monday, April 21st, at around 6:10PM, members of the San Pedro Police and Special Branch conducted a search inside some mangroves in an undisclosed area. The search led to the discovery of a black gift bag containing a black plastic bag with a white pillow casing. The bag was opened and observed to be containing an open parcel of suspected cocaine. The parcel was taken to the police station, where it was weighed. The suspected drugs amounted to 635 gram of suspected cocaine, which was labeled as found property, and samples of which were sent for testing.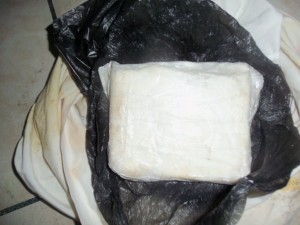 Burglary/ Threatening Words
On Thursday, April 17th at about 9AM, 35-year-old Suyapa Leslie visited the San Pedro Police Station to report that around 3:30AM on the same date, her ex-husband, Melvin Leslie came to her apartment asking for his two children. Leslie refused to give him the children, but he used a knife to open the front door and enter the apartment. He grabbed the complainant around her neck and choked her telling her he was going to take his son. Leslie woke up her oldest daughter and sent her to the police station for help. While their daughter was at the station, Melvin grabbed a machete and placed it at Leslie's neck, saying he was going to kill her. Leslie has requested court action. Melvin Leslie was arrested and pending charges.
Taking Conveyance
Emmanuel Montenegro, 30, reported to the San Pedro Police that on Sunday, April 20th at about 1:30AM he parked his red vehicle, with license plate number SP-C-2263, between Cellular World and Marino's Bar located on Buccaneer Street and went to purchase food at Central Park. He returned after 45 minutes and noticed that his vehicle was missing. He started to make checks for his vehicle and eventually found it in the San Juan Area. Montenegro noted a person was going into the vehicle. Along with his companions, Montenegro managed to subdue the man until police arrived and detained him. The man was identified as 22-year-old Irvin Tzul. Montenegro did not give permission to Tzul to use the vehicle and as such, has requested court action.
Follow The San Pedro Sun News on Twitter, become a fan on Facebook. Stay updated via RSS