Minister Heredia bails out employee found in possession of marijuana
Friday, January 30th, 2015
A bail application document was leaked to the media in which a sitting member of parliament signed on to bail for a man charged with Drug Possession. 43-year-old Edwardo Jones, a resident of Tarpon Street in San Pedro Town was arrested and charged by island police on January 17th. The document leaked to media and shared on social media, with the signature of Honourable Manuel Heredia JR, indicating that Jones was granted police bail on the same date.
In an official police report, on Saturday, January 17th at approximately 6:20PM, San Pedro police on patrol at the corner of Almond and Tarpon Streets noticed a tall male of dark complexion dressed in a white T-shirt and a green short pants was seen standing on Chicken Street and walking around a tank that was in the area. According to police, Jones handed something to a person who had approached him.
Police conducted a search on Jones, however, nothing incriminating was found on him. A search was then conducted around the tank where police found a black plastic bag containing green leafy substance suspected to be cannabis. The suspected cannabis, along with Jones, was taken to San Pedro police station where the drug was weighed and amounted to 8 grams.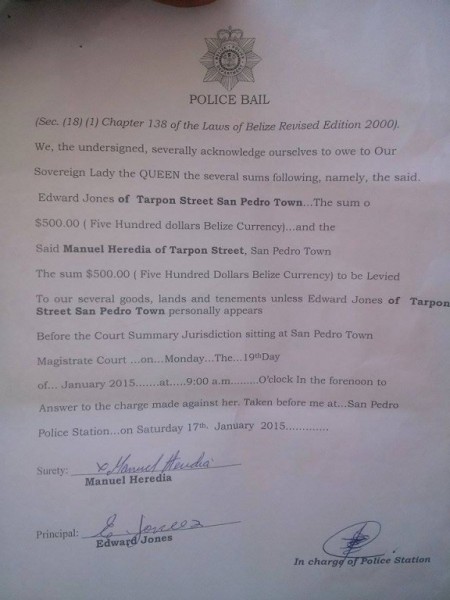 Jones received police bail on the same day in the sum of $500 dollars, which was signed by Hon. Heredia. While the drug is considered to be the equivalent of a cigarette-sized stick of marijuana, it is the act made by the Minister that has come under scrutiny. Residents have been very vocal about drug peddling on the island on many forums. It is believed that many of the crimes committed stem from drug peddling and islanders have called for more enforcement and calling on police to ensure stiffer penalties to discourage these types of activities.
In speaking with The San Pedro Sun, Minister Heredia stated that he bailed Jones out as his employee. He further stated that Jones have been targeted by police on many occasion. "Yes it is my signature on the bail application and I did so because Mr. Jones is my employee for the past three years. He does my errands at home. He has been targeted by police and there are witnesses who can testify to that; people saw what happen. On more than one occasion Mr. Jones has been arrested by this particular officer who has detained him and released the man without charges. In the past he has been beaten by police and this is on the police record. In that regards, I did what had to do – I bailed him out because I gathered that the man did nothing wrong," said Heredia. The matter is before the court but Heredia maintains that there is nothing illegal about bailing someone out.
Jones, who lives on Tarpon Street, is also a neighbor of Minister Heredia.
Follow The San Pedro Sun News on Twitter, become a fan on Facebook. Stay updated via RSS