Superintendent Sandra Bodden takes over the Coastal Executive Unit
Friday, July 24th, 2015
The Coastal Executive Unit has a new Officer in Charge, and she is Superintendent Sandra Bodden. As of Monday, July 13th, Bodden officially took the helm of the San Pedro Police Department and the Caye Caulker Police Department. The senior officer took over the position which was held by Assistant Superintendent Henry Jemmott, who was the acting OC after the transfer of Assistant Superintendent Luis Castellanos. With the arrival of Bodden, Jemmott has been re-assigned to his previous position as Deputy of the Coastal Executive Unit.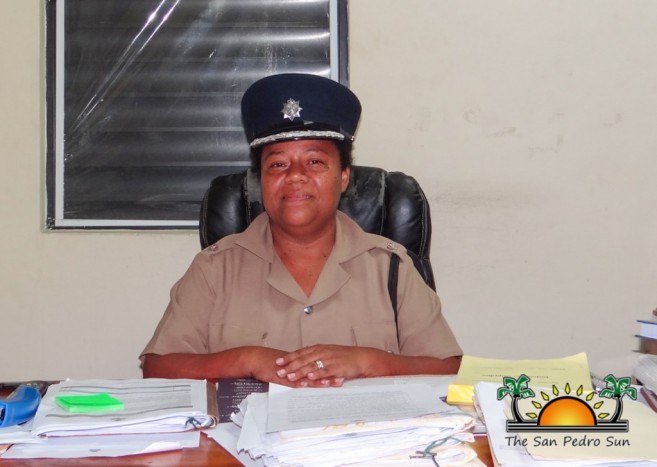 Previously stationed at the Belize Police Department Headquarters in Belmopan as the Training Director, Bodden has been part of the force since 1997. "Like with any new assignment, San Pedro will bring about its challenges, but we will work on making things better. I have met with the members of the San Pedro Police Department and the OC of the Caye Caulker Police Department, and we have chartered the way forward. The most important part of my plan is working hand in hand with the community and key stakeholders in the fight against crime," said Bodden.
The main focus of the new plan for the Coast Executive Unite is strive for a balance in the welfare of both the community and the police officers. "We know that a lot of time, police officers have their own personal issues at home and they have to leave that behind and deal with other people's problems. This can lead them to not do their job properly and we don't want this to happen. I am here to assist the community but we are also here to make sure that police officers are assisted with their welfare."
Bodden also touched on community policing and neighborhood watches. "We are looking to revive many of the programs that have lapsed over the past year, especially the neighborhood watches. We have to work closely with the community. We want to increase our community policing efforts, even if it's just by one. I know one is not a big figure, but one more is more than what we have now. If we can get out there and garner the support of the community, then we will definitely see a difference," elaborated Bodden.
She indicated that a major issue on the island is burglaries but it's one that can easily be solved. "San Pedro had a spike in crime but compared to last year, we are in a good place. What I notice is that we are plagued by burglaries. This is a crime of opportunities. People are too carefree, if you leave your items and home unattended and not properly secured, then people will take advantage of that opportunity. Safety is not only the concern of the police but also of the community. It is your responsibility as a citizen to ensure that you do whatever you can to keep your own person and property safe," ended Bodden.
Bodden is a stickler for discipline and believes once an officer does their task right the first time, there is no need to go back and re-do it. She encourages all her officers to perform at their best of their abilities and to uphold the law as necessary.
The San Pedro Sun welcomes Superintendent Sandra Bodden and wishes her a successful term on our island.
Follow The San Pedro Sun News on Twitter, become a fan on Facebook. Stay updated via RSS