Abandoned Helicopter found in Orange Walk District
Thursday, August 13th, 2015
A grey Bell 407 helicopter with dark tinted windows was found abandoned on Wednesday, August 5th on a feeder road in the Blue Creek area of the Orange Walk District. The aircraft is now in the possession of the Belize Defense Force (BDF) Air wing headquarters in Ladyville, while police continue their investigations as to who the helicopter belongs to and how it made its way to Belize.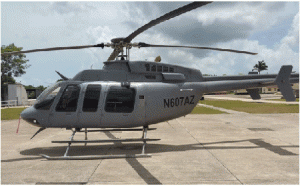 The aircraft, with registration number N607AZ, was circling in the San Felipe/Blue Creek area when Orange Walk police were alerted. Police were conducting an anti-drug operation in the area and quickly responded to the reports. However, by the time they arrived the helicopter had already landed. The aircraft was quickly secured, but no one was to be found in the abandoned helicopter. It is not yet known if the aircraft had been used for transporting drugs, however the police found several blue plastic containers with fuel to increase the distance of travel. Police believe that since the helicopter was found in close proximity of the Belize/Mexico border, the pilot and passengers may have escaped into the Mexico.
The BDF were alerted and two of its pilots flew the helicopter to their Air Wing where it is being kept under guard. Brigadier General and Commandant of the BDF David Jones indicated that up to date they cannot ascertain to whom the helicopter belongs. "We are still trying to find out from where the helicopter came from and to whom it belongs. We have checked with our partners in Mexico and Colombia but they cannot find records to who it belongs to. However, they believe that the tail numbers on it may not be legitimate, and it may be misleading as to who owns the aircraft. So for the meantime, the helicopter will stay in custody at our Air Wing," said Jones.
Jones did not comment whether the confiscated helicopter is now property of the Belizean Government, however Minister of National Security Honorable John Saldivar was not reluctant to confirm that the Bell 407 will be joining the BDF helicopter fleet. "We are expecting to acquire two UH1H helicopters from the Taiwanese government by November this year and with the Bell 407 helicopter captured by the BDF, the total amount of choppers will go to three. In the meantime we are currently looking at the various ways to have our local BDF pilots well trained to the required levels to operate these assets," stated Saldivar.
The Bell 407, which has a capacity for up to seven passengers, has been reported to be in excellent working conditions. Helicopters of this kind go for a price of $USD2.6 million and its travel range is 323 nautical miles.
Follow The San Pedro Sun News on Twitter, become a fan on Facebook. Stay updated via RSS