San Pedro Police Department celebrate Police Week 2017
Saturday, June 24th, 2017
Under the theme, "The Police and the Community working in partnership for a safer Belize", San Pedro Police Department (SPPD) have been observing Police Week 2017. Along with other police departments across Belize, they have been involved in several community activities.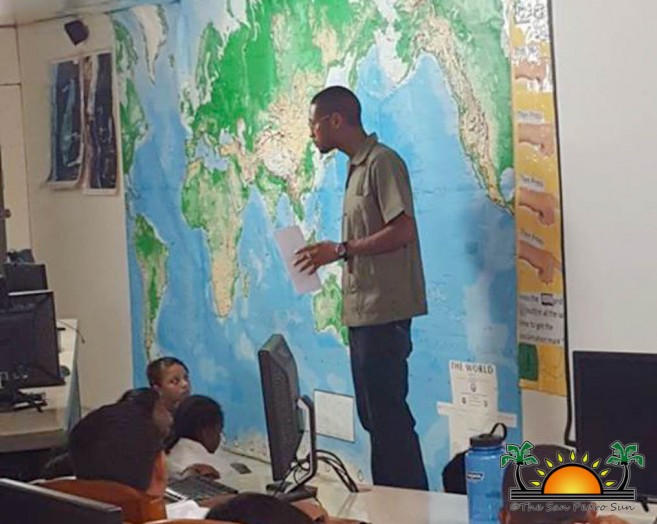 On Sunday, June 18th, SPPD kicked off their Police Week activities at Sagebrush Church with a prayer service. Sagebrush held a special presentation to commemorate Father's Day, and several police officers enjoyed the church's sermon and hospitality. On Monday, June 19th, SPPD visited Reef Radio, where they participated in the morning talk-show, and spoke on the importance of Police Week. As part as their clean-up campaign, police officers took to Boca del Rio Park on Tuesday, June 20th, and painted over graffiti. Later that day, Sergeant Jermaine Pook, Corporal Allan Woods, Sergeant Derrick Saldano and Sergeant Macedonio Sanchez visited several island schools to talk about what it takes to join the police force.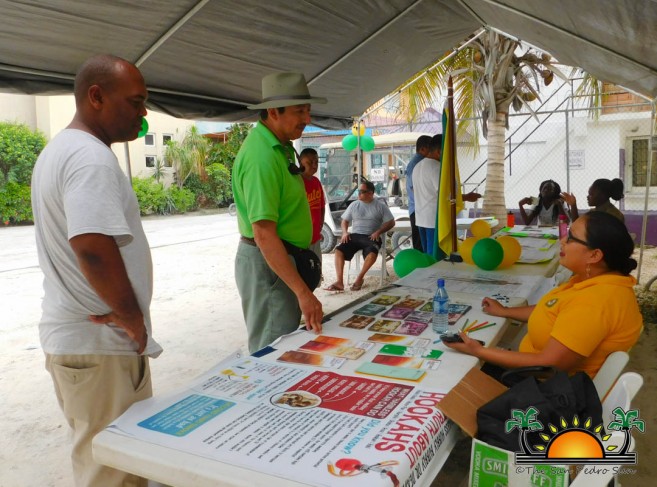 On Wednesday, June 21st, SPPD, in collaboration with the National Drug Abuse Control Council, hosted an 'Open Day'. Many community members, including Mayor Daniel Guerrero, visited the decorated booths. They learned about the many services offered at the SPPD, the Domestic Violence Unit, and the narcotic/alcohol abuse unit. Police officers were treated to turkey dinners with dessert and a natural juice to those who attended.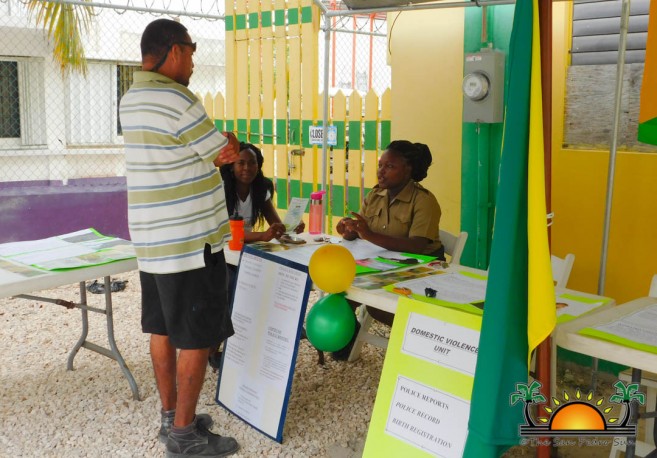 On Thursday, June 22nd, Officer of the Coastal Executive Unit, Assistant Superintendent Henry Jemmott and Sergeant Saldano were honored during the 'Medal and Award Ceremony' at the Police Training Academy in Belmopan City. Both OC Jemmott and Sgt. Saldano were awarded a medal for their distinguished service of 18 years or more. On Friday, June 23rd, the police officers partook in a fun filled day of sporting events at Legend's Roadhouse. The officers enjoyed the afternoon playing pool, volleyball, and football. Police Week 2017 ends on Saturday, June 24, where the Belize Police Department will hold an official uniform police parade.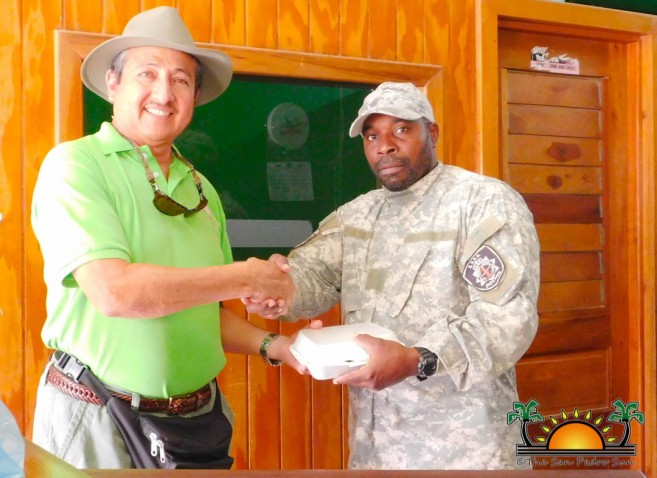 On Wednesday, June 21st, The San Pedro Sun broke news that two San Pedro police officers had robbed a tourist at gun-point. Both Police Constable Denfield Ramos and Special Constable Orlando Mendez were charged with Theft and Extortion. Ramos was additionally charged with "Aggravated Assault with a Deadly Weapon". Despite the fact that these crimes were committed during Police Week, OC Jemmott stated that he will not allow this incident to spoil other worthy officers from being recognized. "Everyone is responsible for their own actions, and it doesn't matter what strict measures you put into place. If someone sees an opportunity to commit crime, they will take that opportunity. All we can do that is to make sure the rest of our police officers are on the right track. San Pedro has seen its lowest crime rate within the past five years, but we still have some bad apples that make the department look bad. There's a saying, "great success comes with failure". So I know it's easy for the bad things to outweigh all of the good we have done," said Jemmott. "As human beings, we might make mistakes, but I want these officers to know that the department is transparent and enforces discipline. It's an unfortunate situation, especially since it falls on police week. SPPD has invested a lot in properly training our officers, especially as we deal with tourists on a daily basis. But they have been reprimanded and the SPPD will continue to work behind the scenes to make San Pedro a safer place. I want the community to know that I stand by law and order. I have zero tolerance to police brutality, corruption, and to unprofessional police officers on duty. I will not back down."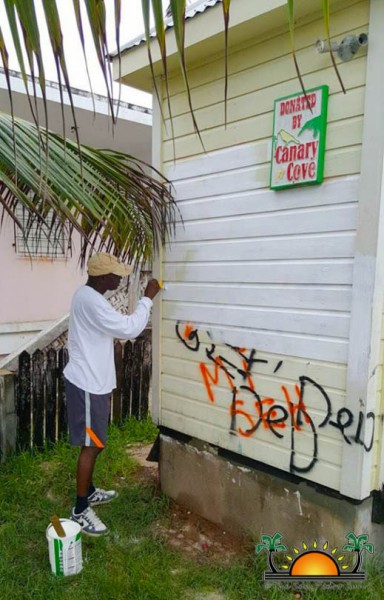 Jemmott is grateful for police week. "Besides the officers that commit crime, we have officers who really deserve to be recognized. We have many officers that are professional, dedicated, honest, and hardworking. Police Week also stems back to the police department rendering 60 years of service. We have grown throughout the years, and have evolved. Regardless of who our commissioner is, our mission and goal has not changed. Our primary goal is to provide safety and service to the people, as well as the preservation of their life, and property. As we continue to do so, I am glad that these hardworking police officers are being appreciated by the police department. We also have the community engaging in our activities, becoming a part of the department. There is a stereotype that police are police, and the community is just a community. We need to understand that these same officers came from the community, became an officer, and are now serving the community," said Jemmott.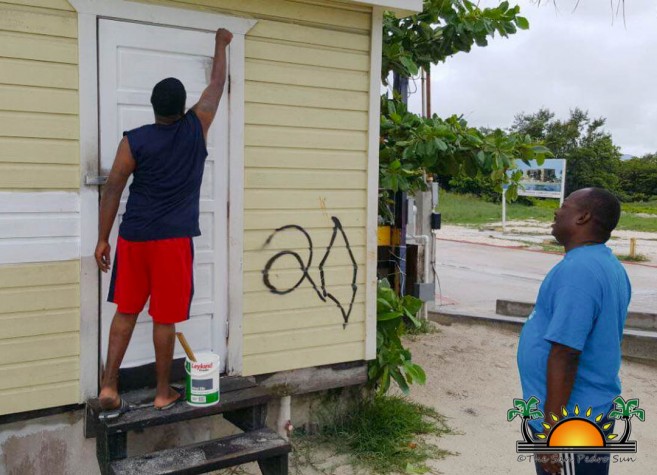 In light of Police Week, Commissioner of Police Allen Whylie also released a statement to the media. "Under my administration, the department has moved from being a reactive department to being a more proactive, people-friendly, service oriented department, embracing the philosophy of community policing which is now the cornerstone of our organization. It is clear, therefore, that the police cannot be successful in achieving their mission without the support and involvement of the people they serve. Crime is not solely a police problem, and it should not be considered as such, rather crime must be responded to as a community problem, a societal problem," said Whylie.
The SPPD thanks the Belize Police Department for serving the community for the past 60 years, along with the San Pedro Town Council, the National Drug Abuse Control Council, all of the hardworking police officers and staff, and the community members for placing their trust in the police.
Follow The San Pedro Sun News on Twitter, become a fan on Facebook. Stay updated via RSS