74 arrested and charged across the country for breaching curfew regulations; six are from Ambergris Caye
Friday, April 3rd, 2020
On Wednesday, April 1st at mid-night, Belize went into a 30-day countrywide State of Emergency following the confirmation of the third COVID-19 (Coronavirus) case in the country. One of the measures put in place was a curfew to be implemented from 8PM to 5AM every day. Failure to comply would see persons being arrested and charged. The first evening of the curfew saw 74 persons countrywide being arrested and charged for various offenses under the curfew regulations. Out of those 74, six were arrested in San Pedro Town for failing to adhere to the law.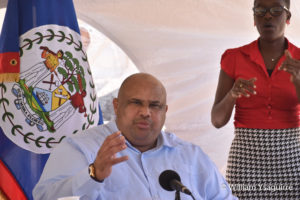 During the curfew hours, every establishment must be closed. No one should be on the streets and loitering, wandering, assembling or moving at any public place/roads will not be tolerated. The Attorney General of Belize and Minister of National Security, Honourable Michael Peyrefitte (right) explained that citizens are only allowed to move during the day time hours from 5AM to 7PM to purchase essential needs, to get medical attention or if the individual is an essential worker. He emphasized that anyone breaking the curfew regulations will be arrested and charge.
Officer in Charge of the Coastal Executive Unit (Ambergris Caye and Caye Caulker) Superintendent Christopher Noble did not share much information on the island cases. However, he did confirm that six persons were arrested, charged and released after meeting bail.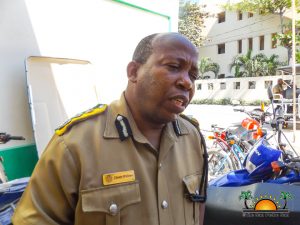 The Commissioner of Police, Chester Williams (left) provided some details regarding the offenders. According to his report, 35 were charged for breach of curfew while 15 were unable to provide reason for movement outside of curfew. There were five persons detained and charged for failure to comply with the restriction of movement outside of curfew. A group of 12 persons did not comply with curfew orders and one individual kept his establishment opened when it was required to be closed. The list of persons in trouble with the law also included two who refused to maintain social distancing, three for wandering around without a valid reason and one person who failed to comply with quarantine conditions.
The government is asking the general public to adhere to the measures being implemented for public safety. In a video message on Friday, April 3rd, Prime Minister Right Honourable Dean Barrow appealed to everyone not to try to beat the system, "Stop trying – and here I pitch my petition to business owners and individuals – stop trying to find workarounds or op-outs of the restrictions that force you to close and that limit your activities." The prime minister stressed that movements must be purpose-driven, such as emergency situations.
In the meantime, the only essential workers who can work during curfew and daytime hours are: Government workers, Media personnel, medical, public utilities, social workers, sanitation workers, productive sector, Statutory Bodies, and State-run bodies.
Follow The San Pedro Sun News on Twitter, become a fan on Facebook. Stay updated via RSS