Police Report
Saturday, September 28th, 2013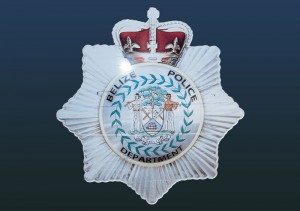 Carrying firearm in public
On Saturday, September 21st at 1:47AM San Pedro Police responded to a distress call of gun shots being fired in the Bayside area of San Pedro Town. On arriving at the scene police encountered a Creole male fleeing from the area carrying a black object resembling a 9mm pistol on his right hand. The area was searched, and Luis Rubio Peterson was detained as he hid under a house. Police retrieved a black 9mm pistol, four 9mm live rounds and three 9mm expelled shells on further inspection of the area. Peterson has been charged for Carrying an Unlicensed Firearm in public.
Grievous Harm
On Saturday, September 21st, 25 year old Shamir Myvette reported to San Pedro police that on that same day around 4AM while standing in front of a food stall on Barrier Reef Drive he was approached by two male persons know to him as Gerwin Amaya and Jason Gillett, who started accusing him of a previous misunderstanding. While arguing, Gillett hit Myvette on the right side of his head with a pint bottle, causing him to lose balance and fall to the ground. Amaya then hit Myvette with another pint bottle to the face causing his lip to split open. Police intervened, clearing the scene and arresting Amaya and Gillett. A medical form has been issued to Myvette certifying his wounds and grievous harm. Charges are pending for Amaya and Gillett.
Aggravated Assault
On Friday, September 20th, 36 year old Noel Gonzalez reported to San Pedro police that while leaving Captain Iguana's Bar at around 8:30PM he was approached by an unknown male person who broke a pint bottle in his head. The owner of the establishment intervened causing the assailant to flee. After driving away from the establishment, the assailant and three other men got on Gonzalez's cart and placed the broken bottle to his throat. Gonzalez begged for his life and ran into a nearby swampy area, allowing the assailants to take his golf cart. The men fled the area due to residents and police presence in the area. A medical form has been issued to Gonzalez certify the cut on the right side of his forehead as Wounding. No arrest has been made.
Drug Trafficking
On Monday, September 23rd at about 8pm while San Pedro police were on mobile patrol in front of the San Pedro High School area their attention was drawn to two male persons who rode off upon seeing the police. They were pursued and were caught on the beach front within a hundred yards from the high school. As a result they were both searched and found on one of them was a black plastic bag which when opened contained green leafy substance suspected to be cannabis amounting to 31.1 grams. Police have since detained the minor.
Burglary
42 year old Blanca Nelly Brown of Boca del Rio Area, San Pedro Town reported that between the hours of 9:30pm on the 22.9.13 and 5:00am on the 23.9.13 her office at Lilly's Restaurant located on the beach front, San Pedro Town was broken into and stolen were $4000.00UScy (1) Samsung touch screen cell phone valued at $600.00Bcy (1) Samsung tablet valued at $700.00bcy (1) Brazilian gold chain valued at $300.00 (1) small bag containing an undisclosed amount of pesos receipts and (2) passports one for her and one for her daughter. Police are investigating.
Follow The San Pedro Sun News on Twitter, become a fan on Facebook. Stay updated via RSS