Melanie Paz announces Mayoral Candidacy for 2012 town council elections
Tuesday, July 12th, 2011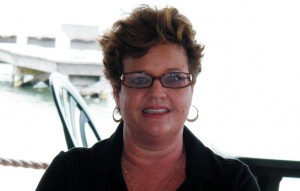 Melanie "Mel" Paz, long time resident of San Pedro and business woman on Tuesday July 12, 2011 officially announced her Mayoral candidacy for the up coming Town Council Elections in 2012.
Over the past two years the Melanie has been responsible for the presidency of the very prestigious San Pedro Lions Club. Under her presidency the Club improved by leaps and bounds in many aspects; being actively involved in many humanitarian events, community activities and projects. It is with this Community Based mentality that Melanie Paz has made this decision to represent the island and people that she loves so much in the upcoming municipal elections.
With the slogan "No Politics, Just Business for a Better San Pedro" Melanie hopes to start making one on one visits with residents of San Pedro, not to make promises but to listen to the needs and suggestions of the people she hopes to represent. In her release she stated, "I have never had any political aspirations, and have surprised even myself that I am embarking in this challenge. My campaign will not be about promises. As the old adage goes, promises were made to be broken. I can, with all conviction, say it will be about commitment and I believe that my track record proves that is what I am about."
She went on to state that the election is not about herself nor is she competing with the other candidates, but rather about the people of the island and the island itself. Key to her candidacy is COMMITMENT, COMMITMENT to the people, COMMITMENT to the welfare of the island, COMMITMENT to getting on the right track and COMMITMENT to be just and fair.
After quoting President John F. Kennedy "Ask not what your country can do for you, but what you can do for your country," she commented; "I firmly believe that in joining forces with the people and working along with them, a great deal can be accomplished. The outcome of the election will prove what the people truly want. To the people, I say, choose wisely, it is your future and that of the island that is at stake."
Read more in this week's issue of The San Pedro Sun…
Follow The San Pedro Sun News on Twitter, become a fan on Facebook. Stay updated via RSS