Robert "Bobby" Lopez to contest elections in Belize Rural South
Saturday, February 11th, 2012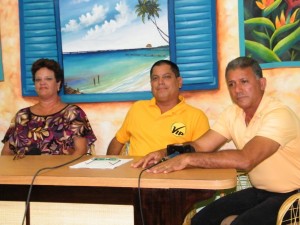 Party Leader of the Belize Unity Alliance (BUA), Robert "Bobby" Lopez, will contest the upcoming March 7th general election in the Belize Rural South (BRS) Constituency. The official announcement was made on Monday night, February 6th, while he was on the local Reef TV show in San Pedro Town. Lopez, who is a member of the Vision Inspired by the People party, is contesting the general election under BUA which is the umbrella alliance for the VIP, the People's National Party and most independent candidates for municipal and general elections 2012. Lopez is the 10th person that will contest the general election under the BUA for 2012.
Lopez is the fourth candidate bidding for the BRS constituency and will face the United Democratic Party's incumbent Manuel Heredia Jr., one term Area Representative (1998-2003) People's United Party's Ana Patricia Arceo and the PNP's William "Mike" Campbell. It's a brave undertaking for Lopez who, while no stranger on the national scene, has less than 30 days to reach out to the BRS constituency that has over 6,000 registered voters.
In an interview with The San Pedro Sun, Lopez said that the VIP was looking for someone to run in BRS and was hoping that the Prime Minister Dean Barrow would have governed his entire five years in office. In calling the election early, Lopez explained that it cuts the time searching period for the VIP and he decided, after consultation with various stakeholders, to launch his candidacy. "I will give it my best shot," explained Lopez who plans to reach out to the constituency through a mass media campaign combined with home visits. Lopez faces the additional task of galvanizing as much public support for the other candidates contesting the election under the BUA umbrella.
"I feel that the Belize Rural South constituency has really been misrepresented, unrepresented and in some cases not even represented at all," explained Lopez. He added that "the critical issue of healthcare, of crime and the economy are issues that will not go away and it needs to be addressed. That is exactly what an area representative does; identify the needs of the area and addresses them if he/she can… I think we have actually retarded the development of Belize Rural South." According to Lopez he wants to create unity between two-sister islands (Ambergris Caye and Caye Caulker) as well as diversify the economic base of BRS.
At the official announcement, Lopez was flanked by San Pedro Independent Mayoral Candidate Melanie Paz and well known businessman and BUA Cayo North Standard Bearer, Marcel Bedran. During the presentation, the BUA took the opportunity to pledge full support to Paz. Paz also received endorsement via a phone call from longstanding PUP member, former elected PUP Minister and Senator, Hector Silva.
Follow The San Pedro Sun News on Twitter, become a fan on Facebook. Stay updated via RSS