SP's Baldemar Graniel receives highest PUP award, the George Price Award
Thursday, October 4th, 2012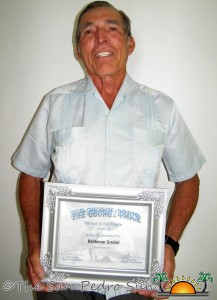 Former Mayor of San Pedro Town and long standing member of the People's United Party (PUP) in San Pedro Town, Baldemar Graniel was recently presented with the Right Honorable George Price Award. Graniel is also a longtime member of the San Pedro Lions Club, a Senior Justice of the Peace and Commissioner of the Supreme Court. He was given the award during a ceremony to mark the 62nd birthday of the PUP that took place on September 29th at Independence Hall located at the PUP Headquarters on Queen Street in Belize City. Graniel was given the award by the Party Leader of the PUP Hon Francis Fonseca along with 34 other Belizean awardees from the 31 electoral divisions.
Graniel has been a political activist on the island and a member of the PUP from its early stage of establishment. Graniel, who is a former Mayor of San Pedro Town, has also been a candidate in various elections under the PUP ticket, some of which were successful. Graniel's contributions to the PUP in San Pedro are too many to mention and he has earned the respect of many residents on the island. "I am very happy for the recognition of which I am proud but humble to have received," said Graniel, adding, "this is one of the most valuable and significant awards in my life." According to Graniel, he was surprised when he was informed that he was nominated for the award by several residents of San Pedro. "I never believed I would be nominated for such a prestigious award. It goes to show that when you work hard, it never goes unnoticed. To me it is significant because it is the highest political award given by the PUP in honor of the person who led the country to independence," said a very happy Graniel.
The award, which was established in memory of the Father of the Nation and past leader of PUP Right Hon. George Price, is given out to Belizean people in recognition for their contribution to the PUP for over 30 years.
Follow The San Pedro Sun News on Twitter, become a fan on Facebook. Stay updated via RSS