Belize Rural South has a new PUP executive
Monday, September 9th, 2013
The members and supporters of the People's United Party (PUP) elected a new executive for the Belize Rural South electoral division. The process was carried out on Sunday September 8th on Ambergris Caye at the PUP office located on Pelican Street. Supervising the election was Sharol Saldivar from the PUP National Executive.
Leading up to the election, the PUP had advertised a vacancy to fill the various positions at the local level. Former Chairman of the Belize Rural South PUP Executive, Milo Paz had stepped down giving way for a new Party Chairman. Close to 50 people showed up to the event and in a matter of a few minutes, 11 people were nominated to fill the various positions. Because there were no other nominations, the names were endorsed and accepted by the general membership that was present.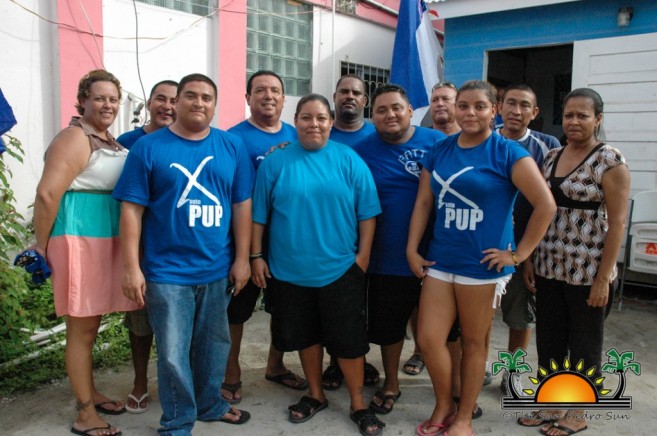 Replacing Paz is the New Party Chairman Nicholas "Nico" Varela. Varela is no stranger to politics, since he has served as a member of the San Pedro Town Council in the 90's. His Vice Chairman is Councilor Gualberto "Wally" Nuñez, the only PUP councilor on the current town council. Joining the executive are Campaign Manager Darwin Palma, Deputy Campaign Manager Dina Graniel, Treasurer Rene Guzman, Vice Treasurer Pablo Sosa, Secretary Omar "Canasi" Guerrero, Public Relation and Media Coordinator Monica Gamez, Head of the Marshal Nigel Belisle, Coordinator of the Belize Youth Movement Jacqueline Eiley and Political Advisor Mike Estell.
Following the election process, Gamez told The San Pedro Sun that while the new executive has been elected, the official swearing in will take place on the 29th of September to coincide with the PUP's 63rd anniversary. That event will take place at the PUP Headquarters at Independence Hall in Belize City.
Follow The San Pedro Sun News on Twitter, become a fan on Facebook. Stay updated via RSS