EU Ambassador HE Paola Amadei on working trip to San Pedro
Wednesday, May 21st, 2014
The European Union Ambassador to the Caribbean, Her Excellency (HE) Paola Amadei was on a working visit to Ambergris Caye. Her stop on the island is part of her one week working tour in Belize, where she is visiting dengue and malaria hotspots within the country. During her visit to the island, Amadei met with Mayor of San Pedro Town Daniel Guerrero and the Administration of the Dr. Otto Rodriguez San Pedro PolyClinic II.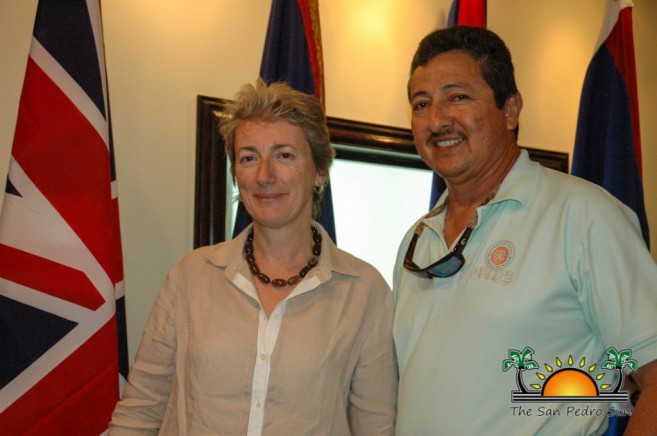 Speaking to The San Pedro Sun, HE Amadei explained that in December 2013, the EU donated 750,000 Euros ($2,055,150.00) to the Government of Belize to help in the fight against water-borne diseases in the country. "The purpose of my visit is to get sensitized about the situation in regard to the program of prevention and control of vector-borne disease such as dengue and malaria. The visit is within the scope of a two-year project financed by the European Union, which is working together with the Ministry of Health in Belize and through the Pan-American Health Organization (PAHO) to help in the regional fight against these vector-borne diseases.We have a commitment to work along with our Caribbean partners and we find ways where we can improve the health sectors in the region."

In 2013, the Caribbean region saw a spike in the number of dengue cases while some countries like Belize saw a decrease in malaria cases. Belize alone saw an increase in dengue cases, totaling some 2000 clinical cases and over 300 confirmed cases in 2013. However the cases of malaria decreased significantly, totaling only 26 in 2013. Amadei said that it is important to get community support to tackle and fight vector-borne diseases from all angles.
"The project will run up until 2015, and it is aimed to increasing resources such as vehicles and foggers, while strengthening the technical staff to better respond to these spontaneous outbreaks. Another aspect is to increase the national campaign to educate people on ways to protect themselves from dengue and malaria, and even now, the chikungunya disease that has been introduced and is present in 15 islands in the Caribbean. It is important for the general citizenry to be a part of the preventative initiative of these vector-borne diseases. Simple things can help prevent these diseases, but our citizenry need to be educated in ways they can play a role."

According to the figures from the Ministry of Health, on Ambergris Caye there were over 119 clinical cases and 26 confirmed cases of classic dengue in 2013 alone. For 2014, there have been 24 registered cases of clinical dengue thus making the island a dengue hotspot. "The increase of dengue has a great impact on productivity, but it can also impact tourism dependent areas like San Pedro Town. It can be a deterrent for tourism if visitors get to know that there is an outbreak of these vector-borne diseases. So it is important that we pay attention and play an active role to reduce the cases and chances of these diseases. San Pedro is especially sensitive because we have a great turnover of visitors and we have to ensure we have the situation under control. We are happy to know that the San Pedro Town Council is fully onboard with the preventative initiative and supports the work that is being done, through the Vector Control Unit of the Ministry of Health, to tackle these diseases," underscored Amadei.

After a meeting with officials from the local public health facility and the members of the San Pedro Town Council, the team of about 10 toured some of the hot-spots and vulnerable breeding sites for vector-borne diseases on Ambergris Caye, which included San Mateo, Boca del Rio and San Pedrito.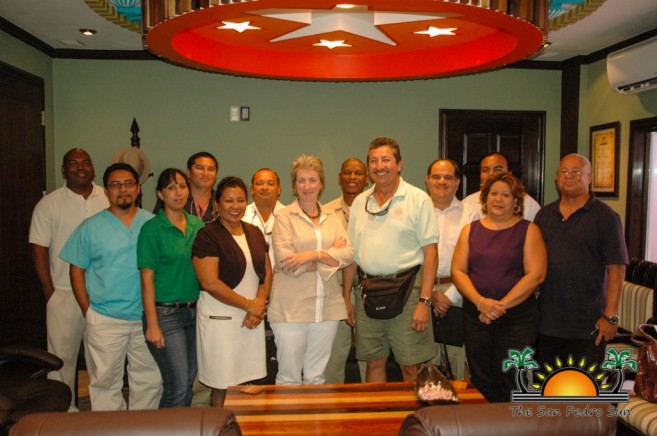 According to PAHO, it is estimated that half of the world's population is at risk annually from vector-borne diseases including malaria and dengue. An estimated 145 million people in 21 countries of the Americas are at risk of malaria and dengue, and 25 million of them are considered at high risk.
Follow The San Pedro Sun News on Twitter, become a fan on Facebook. Stay updated via RSS