San Pedro Councilor and Mayoral Candidates Debate Plans Finalized
Friday, February 13th, 2015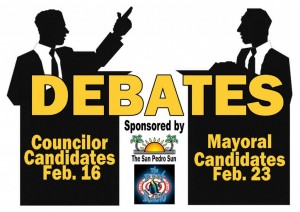 Press Release – The San Pedro Sun/Reef Radio – January 14, 2012 – Plans have been finalized for the first ever council candidate debate to be held on February 16th.  A mayoral candidate debate will be held on February 23rd and both debates will commence at 7pm. The debates, hosted by The San Pedro Sun and Reef Radio/TV will be held at the Lion's Den and will be televised live on Reef TV on channel 20 and broadcast live on Reef Radio at 92.3FM.
For the Councilor Candidates' debate, the names of two aspiring candidates from each party will be submitted to the organizers as their representative, while the Mayoral candidates will be the only person to represent their party in the Mayoral Debate.
In order to assure an orderly crowd the debate will be open to only those with tickets. Each candidate will be allotted equal amount of tickets to distribute at their discretion. In addition, select members of the Town Council, private sector and media will be invited. It is anticipated that close to 100 people will be in attendance. Crowd participation will be limited to applause when appropriate and alcoholic beverages will not be sold or permitted at the events. The debates will be limited to two hours and The San Pedro Sun will also have up-to-the-minute updates on their Facebook page at www.facebook.com/SanPedroSun.
The public is encouraged to submit their debate questions to The San Pedro Sun by dropping them off at our office at 63 Barrier Reef Drive or emailing then to [email protected].
Questions can also be submitted to Reef Radio at their location on Pescador Drive or emailed to [email protected].
Campaign managers for all parties will receive the debate format and rules before the debates and advertising sponsors for the debates are being solicited to help cover the expense of holding this unprecedented event.
For more information about the debates or how to be a sponsor please call The Sun at 226-2070 or Reef Radio at 226-4054.
Follow The San Pedro Sun News on Twitter, become a fan on Facebook. Stay updated via RSS