Belize Rural South Standard Bearers participate in historic debates
Thursday, October 29th, 2015
On Friday, October 23rd, the three candidates contesting for Area Representative of Belize Rural South participated in the 2015 Standard Bearer Debate in San Pedro Town. Organized by The San Pedro Sun and Reef TV, the debate was held at the Sunbreeze Conference Room at 7PM. The three contestants answered a series of questions addressing issues affecting the community. The invitation only event was simultaneously aired on Reef TV/Radio on Channel 20 and Reef Radio at 92.3 FM to allow the public the opportunity to watch/listen to the debate. Participants included José "Elito" Arceo of the People's United Party (PUP), José Manuel Heredia of the United Democratic Party (UDP) and Robert "Bobby" Lopez of the Belize Progressive Party (BPP).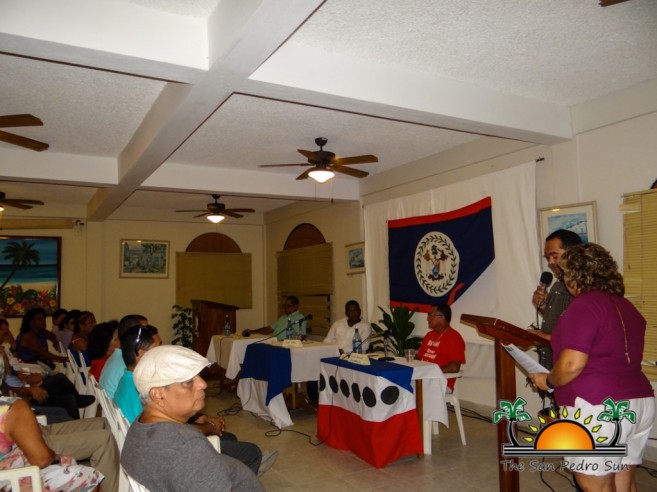 Ensuring that that the debate flowed smoothly was Eiden Salazar of Reef Radio/Reef TV acting as the Moderator and Tamara Sniffin of The San Pedro Sun Newspaper acting as the Presenter. A timekeeper was on hand to ensure each participant answered within the allotted time. Police security was present to ensure that law and order was maintained by members of the audience throughout the debate. Each candidate was given five minutes to present themselves, after which the question and answer segment commenced. The debate was composed of ten questions with candidates being allotted a maximum of two minutes to answer. The issues highlighted in the debate pertained to education, environment, youth, transparency and accountability, development, health, tourism, subvention, infrastructure and public service.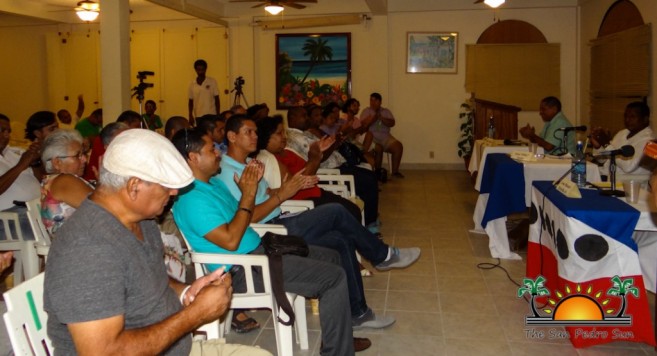 In the first question, candidates were asked how they would assure all children on the island attend school and receive a quality education while meeting the special needs of students. Lopez indicated that the shift school system would best benefit the island, and that is he is elected he would introduce vocational studies to San Pedro youth. On the other hand, Arceo spoke on expanding the existing school in order to accommodate more students and providing better facilities to promote a healthy educational environment. Last to answer was Heredia who indicated that his UDP government has already allocated monies for the construction of both a new primary school and high school for the Ambergris Caye.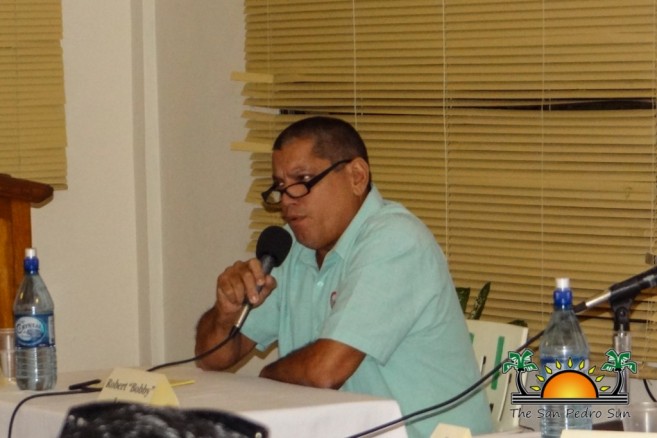 The second question touched on environment and the use of garbage as landfill. All three candidates agreed that garbage is a major issue, but only Arceo and Lopez were against the use of garbage as landfill, as Heredia indicated that using garbage to fill in lots has been a practice on the island for years.
In the third question, regarding youth issues, Heredia maintained that the enhancement of sports is the best way to address youth issues. "Sports has been the traditional thing done and I believe we still have to continue enhancing sports," said Heredia. Lopez indicated that youth issues can be solved through empowering the youth. "We need to reconnect our youth and we will do this through the Youth Connect Program. We will be empowering our youth by giving them a piece of land when they turn 18 to start developing for themselves and become entrepreneurs," said Lopez. As for Arceo, his stance is that while sports can assist youth, a proper education needs to be given in order to prevent issues. "The youth are our future. So we intend to tap into that so we will ensure that they have all the proper tools to be fruitful in life," said Arceo.

The fourth question was on transparency and accountability, and contestants were asked if they considered it an important issue. Once again all three participants agreed it is very important for an Area Representative to practice transparency and accountability. Each promised that, if elected, they will govern Belize Rural South with both qualities in practice.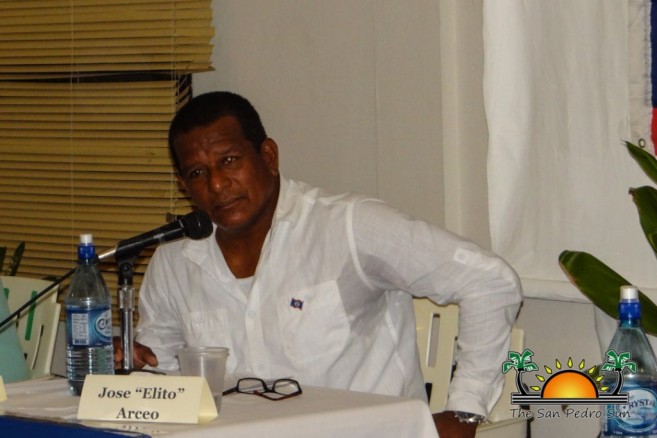 Concerning the issue of development and consulting the public when making paramount decisions that directly affect them, only Arceo and Lopez believed it is important for the public to have the ultimate say in regard to such projects. Heredia reiterated that all projects made under his administration are for the best of the community and that the community needs to be more open minded towards development.
Another pressing issue was health. For years San Pedro has lacked proper medical facilities and all three contestants made promises to address this issue by constructing a hospital.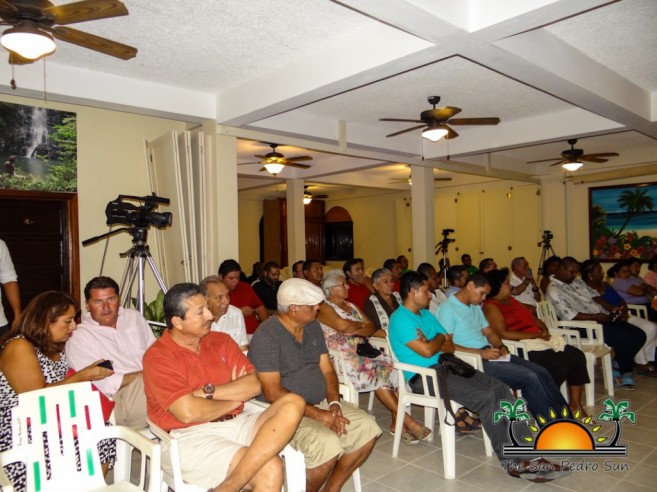 Tourism was also a major issue discussed in the debate. Each contestant took their individual stance in how they plan to improve the tourism products offered by Ambergris Caye. "It is important that tourism is addressed. We need to listen to what the tourists are saying and work on addressing the issues they highlight. We need to bring everyone to the table in crafting a sustainable plan for the growth of tourism," said Lopez. Arceo and Heredia emphasized on their knowledge of island life when answering this question regarding tourism.
The eighth question of the debate touched on subvention and the amount of taxes collected from Ambergris Caye. All three candidates promised that if elected, they would lobby Central Government to increase the amount of taxes returned to the island. A highlight of this section was when Lopez promised to strive to reduce the amount of General Sales Tax being paid by island residents, as cost of living is higher on Ambergris Caye.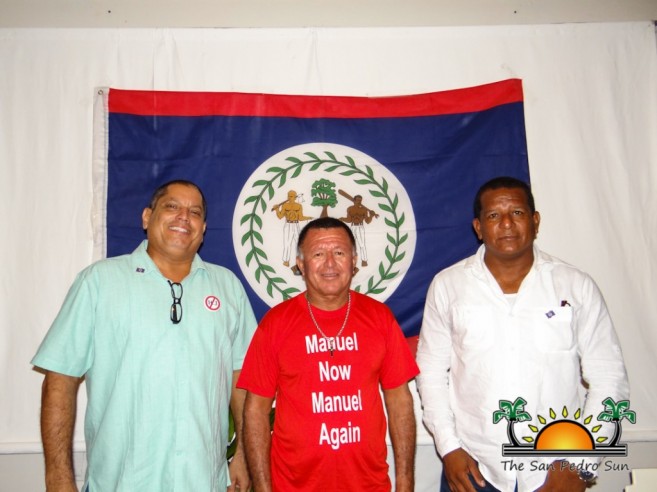 The last two questions were on infrastructure and public service. Lopez was keen on giving specific thoughts on how to address issues regarding roads, sewage, electrical service and city planning and ideas on how to better accommodate our public servants.
At the end of the question and answer segment, each candidate was give five minutes to rebut any of their opponents' answers. The debate ended with each candidate giving a three minute closing statement.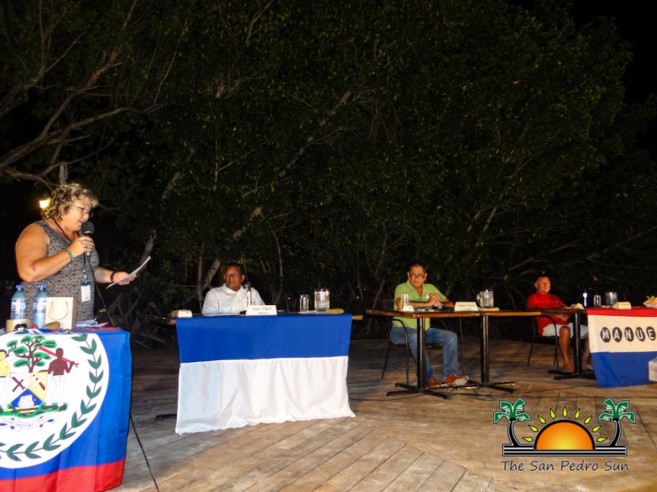 This year not only saw a debate being held here in San Pedro Town, but also in Caye Caulker for the first time in history. Once again, the three candidates were invited to participate in the debate. The Caye Caulker Standard Bearer Debate was held at Iguana Reef Resort, with close to 70 persons in attendance. The same rules and regulations from the previous debate applied with candidates having to answer ten questions submitted by the Caye Caulker public. The questions were on priorities, tourism, healthcare, education, beautification, development, representation, economic development, land distribution and transparency and accountability.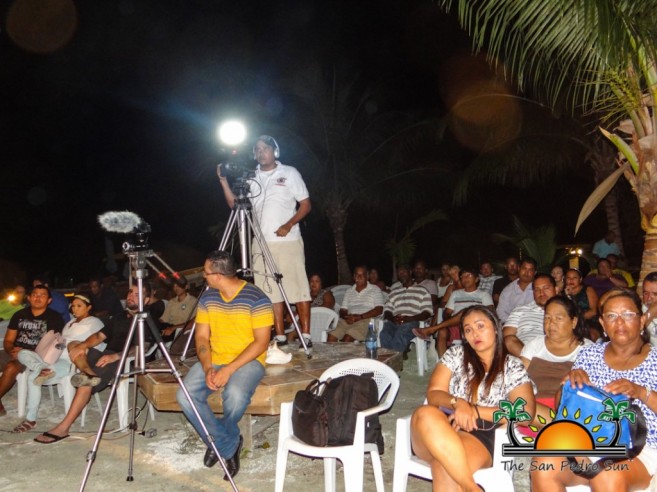 When answering the first question on the top three priorities for Caye Caulker if elected, three candidates agreed that top priorities are health, education, environment and development. In regards to tourism, Lopez and Arceo both indicated that they would work with Caye Caulker to maintain its island charm by developing tourism sustainably. Heredia indicated that Caye Caulker is an emerging destination and needs more development to reach its full potential in the tourism industry.
Healthcare and education were very pressing questions in Caye Caulker, as the island lacks in both issues. Lopez again reiterated the need of the shift education system to reduce the strain in the education while healthcare will be addressed with the installation of a community hospital. Arceo plans on building new schools and a polyclinic in Caye Caulker to address these issue, while Heredia plans on improving the current services that are already there.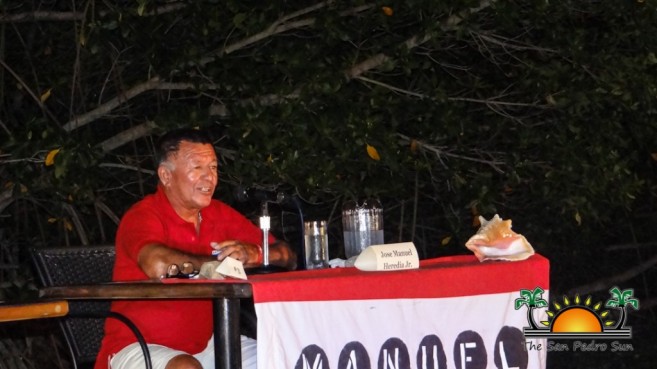 In the fourth question, the candidates pointed out their plans for island beautification, with emphasis on addressing the issues of public parks and recreation for residents. "It is important to bring the ideas of the local community together and tabling a budget for these projects at a national level. Public parks and recreational space is very important for our children and visiting guests to be able to enjoy the island," said Lopez. Heredia indicated that as a tourist destination, it is important to address beautification and that under his administration the central park and sporting facilities will be upgraded. "Recreational areas enhance the island and the lives of our people," said Heredia. Arceo touched on the neglect of the island by the incumbent Area Representative and promised that if he is elected change will come. "We not only need to put in the infrastructure. But ensure that the recreational area is drug and alcohol free. In my administration, we will ensure that all of this is possible and accomplished," said Arceo.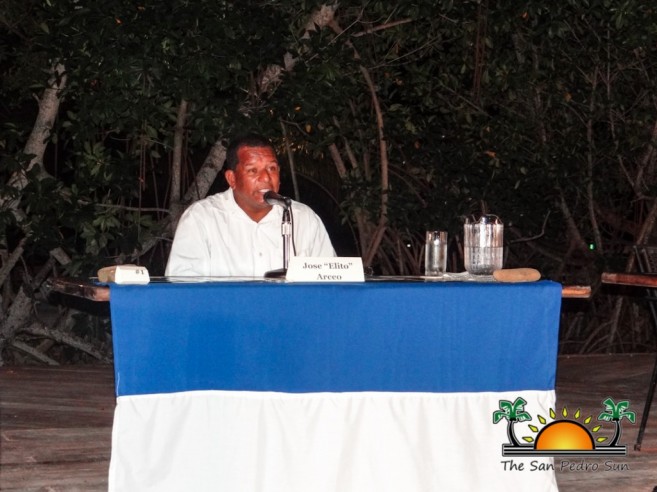 The next question was on the islands' development and the need for infrastructural services being put in place. While all candidates agreed that the island needs to be developed sustainably, they all had different ideas and expectations on how to develop the island's resources.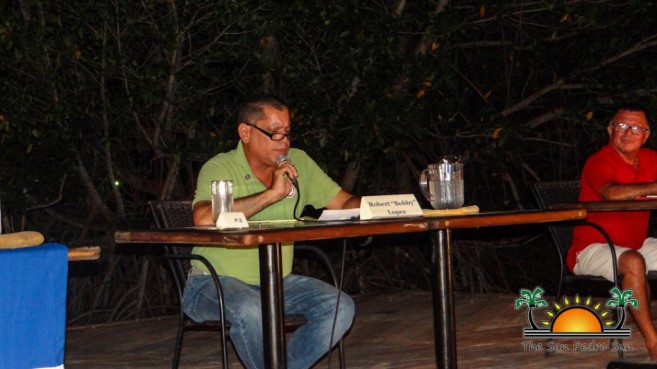 The next question was on representation and how to assure the residents of Caye Caulker that they have their best interests at heart. While Arceo and Lopez highlighted their plans for properly representing the island, Heredia recognized that while in office he has not always had time to visit the island but has always lobbied for their interest at Central Government. "Residents of Caye Caulker regard themselves as an independent republic, because they don't wait for Central Government to hand them what they need. They do as much as they can for themselves. I believe that when it comes to representation, my job is to listen to local authorities and then lobby at Central Government or Cabinet to get the services that they deserve. This is exactly what I have been doing, I will never go beyond the powers of the local authority," said Heredia.
The candidates then answered questions on economic development and land distribution. The final question was on transparency and accountability.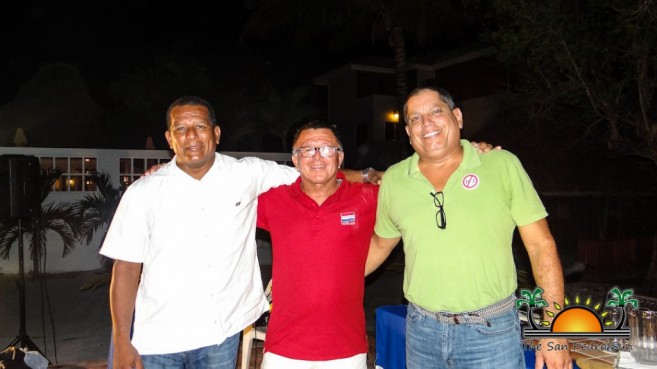 The San Pedro Sun and Reef TV/Radio would like to thank all those who assisted in making the two debates a success. Special thanks go to Arceo, Heredia and Lopez for taking the time to participate during the final campaign days.
The Belize Rural South electorate is encouraged to cast their vote for who they believe will best served as Area Representative on General Elections day on Wednesday, November 4th.
Follow The San Pedro Sun News on Twitter, become a fan on Facebook. Stay updated via RSS