Guatemalan President increases military presence at border after minor is shot
Thursday, April 21st, 2016
UPDATE as of 10:20 a.m., April 22nd, 2016:
MINISTER OF NATIONAL SECURITY MEETING WITH SECURITY FORCES HIGH COMMAND
Minister of National Security Hon. John Saldivar is in session this morning at Price Barracks, Ladyville with Commander of the Belize Defence Force Brigadier General David Jones; Rear Admiral John Borland, Commander of the National Coast Guard; Acting Commissioner of Police Russel Blackett; and CEO Colonel (Ret'd) George Lovell of the Ministry of National Security.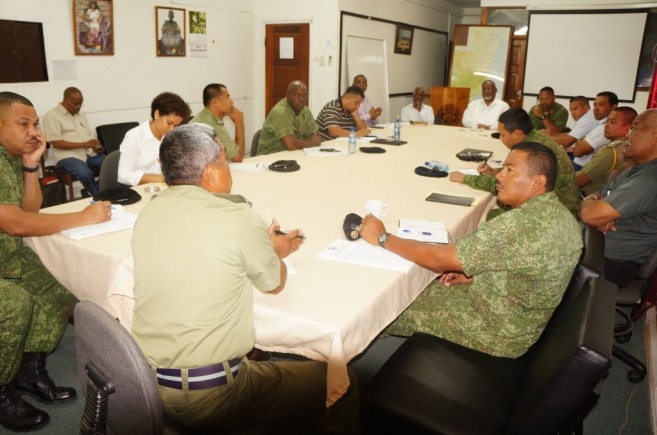 This strategic military planning session is in advance of and in preparation for the meeting of the National Security Council to be held later today to determine our further course of action in light of the developing situation on our borders.
Guatemalan military presence has heightened in the Sarstoon River and along the entire border with Belize as per President Jimmy Morales' orders. The decision was taken after a shooting incident at the border left a Guatemalan minor dead, allegedly at the hands of the Belize Defence Force.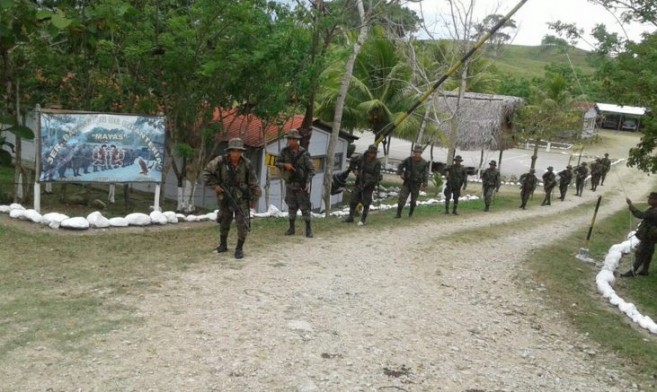 According to an article published by Guatemala's Prensa Libre on Thursday, April 21st, an altercation took place between 6PM and 7PM on Wednesday, April 20th, when members of the Belize Defence Force (BDF) attacked 48-year-old Carlos Alvarado along with his family while they were planting pumpkin seeds along the side of the border. In the armed attack, according to the article, Alvarado and his two children, 11 and 13 years old respectively were shot. He and his youngest son Carlos Alvarado managed to get away with minor wounds while his oldest son 13 year old Julio Alvarado was apparently shot dead on the spot and taken by the BDF soldiers. The family, originally from the community of San Jose Las Flores near Melchor de Mencos in Peten, have been admitted at a local hospital and treated for their injuries.
On Thursday, April 21st, GOB issued an initial press release, regretting the loss of the minor's life and indicating that it would be conducting its own investigation. GOB stated that it remains concerned about illegal activities along the Western border with Guatemala and will continue to engage with OAS and the government of Guatemala with a view to stopping the illicit activities of Guatemalan civilians who are becoming increasingly more violent toward the security and law enforcement of Belize.
For his part, Guatemalan President Jimmy Morales issued a message in which he condemned the incident and ordered the country's military branches to head to the border to safeguard the sovereignty of Guatemala. "Considering Guatemala's "good faith" in finding a peaceful resolution to the Belize/Guatemala Territorial Dispute, which doesn't seem to be supported by Belize, and given the recent events, I declare as of now that I will heighten strict protection of Guatemala's sovereignty in the Sarstoon River and Adjacency Zone to ensure that soldiers of the Belize Defence Force no longer abuse our territory and citizens," stated Morales in a three minute eleven second recording published on the Prensa Libre Facebook page.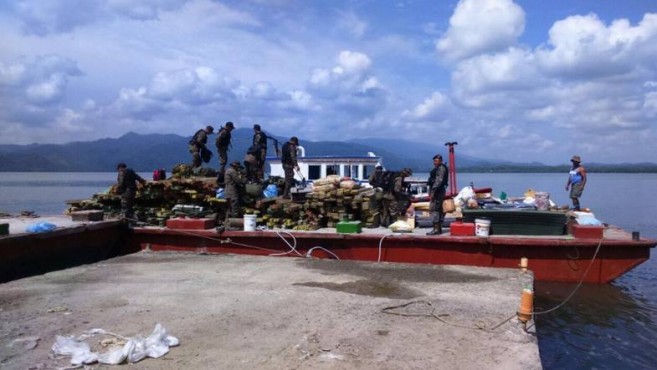 In the statement, Moralez asked the Government of Belize (GOB) what threat a child could have on Belize's sovereignty. He also demanded that the person or persons responsible for the death of the child be arrested and be brought up to the law. He also stated that the Guatemalan government has reported the matter to the international human rights organizations as a violation of human rights and requested that they investigate the incident, which he categorized as a cowardly act by the Belize Defence Force.
Additionally, Moralez called in the Guatemalan Ambassador in Belize for consultations until the matter is addressed by GOB.
The Government of Belize responded to Morales' incendiary remarks shortly after. "The Office of the Prime Minister rejects the version of events in the statement by President Jimmy Morales made to the Guatemalan public on 21st April, 2016 regarding the incident in Belize's Cebada area of the Chiquibul National Park.
Belize has a long history and tradition as a peace loving country, respectful of international law, human rights, and with a strong democratic culture where the rule of law has always prevailed. The Government and people of Belize always abide by these strong and unshakeable traditions. Accordingly Belizean Security Forces and law enforcement officials would never perpetrate an armed attack on civilians especially minors except in exercise of the right to self-defence.
The Government of Belize reiterates that the mandate and authority given to Belize law enforcement and security agencies to enforce Belizean laws and protect Belize's natural resources and territorial integrity is at all times implemented on the basis of recourse to the use of force only as a last and justified resort. But respect for life and rights must always include respect for the life and rights of Belizean law enforcement officials and security forces. In this case the BDF reports of the incident indicate that our patrol in Belizean national territory came under attack to which they responded in justifiable self-defence. It is to be pointed out that the patrol included civilian personnel from the NGO group, FCD, and those personnel confirm the fact that our patrol simply responded after they were fired upon and were in fear for their lives.
This latest shooting attack on Belizean officials is part of a continued pattern of aggression by Guatemalan civilians engaged in illegal activities on Belize's side of the Adjacency Zone. In this regard, the Office of the Prime Minister recollects the earlier attacks which resulted in the murder of Special Constable Danny Conorquie and the shooting of Sgt. Richard Lambey.
Belize wishes to remind the Government of Guatemala that both countries are committed to the Confidence Building Measures signed in 2005 which obliges both Governments to act responsibly in word and indeed when dealing with any incident that may occur along the border.
In this regard, we find the statements made and position taken by President Morales to be unhelpful and inflammatory. The current amassing of Guatemalan troops in the border areas, including the Sarstoon River, only adds volatility to the tensions already created by illicit activities in these areas.
For its part, the Government of Belize will continue to abide strictly by the Confidence Building Measures and we urge the Government of Guatemala to do the same."
Follow The San Pedro Sun News on Twitter, become a fan on Facebook. Stay updated via RSS