Editorial: For the Record
Friday, January 26th, 2018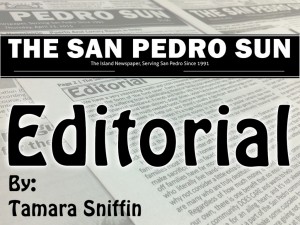 Each election year The San Pedro Sun believes that the community should have the opportunity to learn about the candidates who are running for office. Traditionally we run a "Meet the Candidates" forum over a period of weeks where the politicians answer a list of questions submitted to them far in advance. As a non-partisan newspaper, every step is taken to ensure fair and equal publicity for the aspiring candidates.
On January 5th The San Pedro Sun sent an email to the secretaries for both United People's Party (UDP) and People's United Party (PUP) campaign parties in San Pedro Town. The email stated, "As municipal elections are coming closer, The San Pedro Sun will start featuring the different candidates running. Can we please ask you to share these questionnaires with your candidates to be answered and submitted back to us by Wednesday (January 17th)?"
A reminder was e-mailed to both parties on Monday the 15th, stating that the deadline for submitting the answered questionnaires was fast approaching. The San Pedro Sun received the requested answers (and photos) from the PUP slate on the deadline day. Despite several calls, emails and even a personal visit to the San Pedro Town Council to obtain the requested information from the UDP slate, none was forthcoming. On Thursday, January 18th a representative from the town council called The San Pedro Sun and stated that the Mayor and Councilors were still debating whether they wanted to answer the questions but were looking at not answering. We asked the representative to send us an email stating this decision, but no such email was sent.
On Monday, January 22nd The San Pedro Sun received a call from the same representative who expressed their displeasure with how we worded the Editor's Note that was included with the "Meet the Candidates" article we printed the Friday before. The sentence read, "The San Pedro Sun invited both the UDP and PUP candidates to respond to the following questions. The UDP candidates declined to participate."
And that is what happened; they declined to participate, but apparently "at that time."
According to the Mayor's representative, the statement should have read, Editor's Note: As of press time, the Mayor has not decided whether or not he or his team will participate in this forum.
We stand corrected.
However, in a forum intended to provide equal coverage to both parties, would it be fair to give one party the time to respond IF and WHEN they decide, while the other party met the deadline? Imagine if the tables had been turned?
Follow The San Pedro Sun News on Twitter, become a fan on Facebook. Stay updated via RSS