Re-registration numbers are down; the cause linked to the Vital Statistic Unit
Friday, August 17th, 2018
The mass re-registration exercise is two weeks away from culminating, and reports coming from Elections and Boundaries indicate that as of August 11th only 90,873 applications have been filed. The previous week, 9,320 applications were received, showing a decrease from previous weeks. The Department intended to re-register about 200,000 voters by the end of August 2018, however, that goal now seems unlikely. It is believed that the decline in the re-registration process is due to the alleged poor service at the Vital Statistic Unit, where many people have been visiting to obtain necessary documentation, such as birth certificates to re-register. The slow service has created long, slow-moving lines at the said institution, with people becoming frustrated with the delay.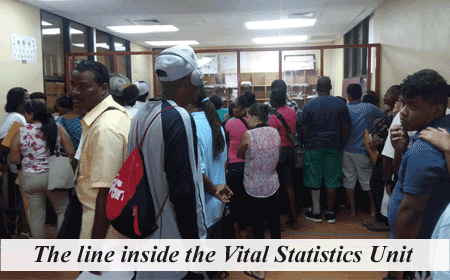 On Tuesday, August 14th, the Vital Statistic Unit premises was reportedly packed to capacity, with many people standing in long lines. They seemed impatient, tired and frustrated with the progress of obtaining their documents. As thousands of Belizeans still make attempts to re-register, the function of the said Unit has been put into the spotlight, as politicians from both major parties are doing their best to get voters registered in their various constituencies.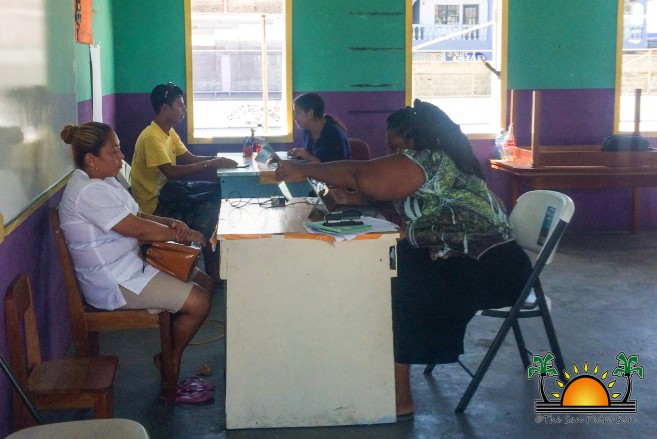 One person can apply for five birth certificates at a time, but apparently, there is no limit to the number of certificates for which political candidates and their operatives can apply for. Also, politicians and their agents do not have to get in the never-ending long lines that begin forming every day as early as 6AM. According to Registrar General, Triennia Young, on an average, the staff at the Unit tend to around 200 persons per day. The persons most affected are those coming in from other districts, who find it extremely difficult to cope with the length of time needed to obtain their documents. As a result, some of them have resorted to taking on the services of a set of self-proclaimed 'couriers.'
A courier charges a fee to wait in the long lines and make the necessary trips to pick up the documents for someone else. The courier will also deliver the document (birth paper) via local flight, bus, or any other means of transportation arranged between this person and the client. But the problem is that many people cannot afford the fees proposed by these couriers, which can run up to $300. Given that the turnaround time from application to obtaining a birth certificate from the Vital Statistics Unit is approximately two weeks, many are even more skeptical that the end of the month will achieve the 200,000-person target.
In the meantime, Elections and Boundaries continue to remind the public that the present Registration Centers will be opened until the end of August. Those who do not manage to re-register before or by this time will need to register at their respective Elections and Boundaries registration offices commencing Monday, September 3, 2018.
Follow The San Pedro Sun News on Twitter, become a fan on Facebook. Stay updated via RSS