First UDP Leader, Dean Lindo passes at 86
Saturday, September 22nd, 2018
Former politician and first leader of the ruling United Democratic Party (UDP) Attorney Dean Russel Lindo passed away on Monday, September 17th at his residence in Belize City. Lindo rose to political significance when the UDP was founded in 1973. As its first leader, the party rose rapidly to become a prepared Opposition against the People's United Party. According to the Hol Chan Marine Reserve, Lindo was also known for his conservation initiatives, which led to the establishment of the Hol Chan Marine Reserve in the country in 1987, when he headed the Ministry of Natural Resources and Agriculture.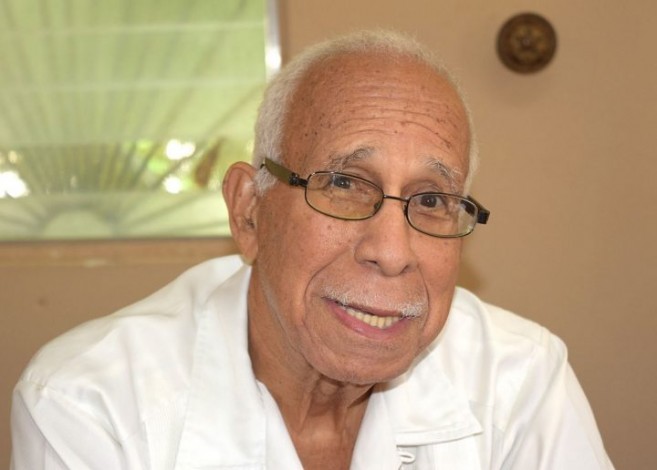 According to Lindo's family, he was suffering from diabetes and heart complications. The political mastermind is also the uncle of Prime Minister of Belize, the Right Honourable Dean Barrow.
Lindo's political career dates as far back as 1969, when he went against Philip Stanley Wilberforce Goldson for the leadership of the National Independence Party (NIP) but was unsuccessful. This loss propelled him to form his own party, which he named the People's Development Movement (PDM). A few years later, in 1973, Lindo decided to merge his PDM with the NIP to form the UDP. A year later the party captured six seats in the general elections. Lindo defeated Said Musa in the Fort George Area, but then in the following general elections held in 1979, Musa took it back. Lindo did not only lose the seat, but also the leadership of the UDP.
After Belize became independent in 1981, the UDP took over the government after winning the 1984 general elections. Lindo once again took back the Fort George seat from Musa. But consequently, he lost the seat in the next election. Lindo left politics, but continued advising the UDP and continued his law practice.
The founder of the UDP was a graduate of New York University in the United States of America and Durham University in England. He was an honorable member of the Society of Lincoln's Inn. Lindo never stopped practicing law and died an attorney still in service.
The San Pedro Sun extends the sincerest condolences to the family of Dean Lindo.
Follow The San Pedro Sun News on Twitter, become a fan on Facebook. Stay updated via RSS