PUP loses court case over the list of electors in Belize Rural South
Saturday, December 8th, 2018
A petition from the Belize Rural South (BRS) People's United Party (PUP) to remove 15 persons registered to vote in the BRS constituency was dismissed by the San Pedro Magistrate Court on Wednesday, December 5th. The petition was officially presented to the court on November 21st where the PUP argued that the 15 registered electorates do not reside within BRS and were not eligible to vote in the said constituency. The defense from the United Democratic Party (UDP) strongly disputed the accusations, and after two weeks of careful analysis, the verdict ruled in favor of the defending side.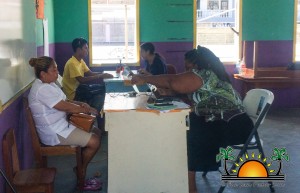 According to the judgment, the objections presented by the PUP legal representation Attorney-at-Law Eduardo Aguilar failed to explain the difference between domicile and residence of the 15 electorates. The key point in the objections was to prove that the voters do not reside in BRS, but according to the court, the PUP's attorney could not prove this allegation. Evidence presented to the Magistrate was based on information gathered from Facebook and was disregarded as proof that these 15 persons do not live on the island. Therefore, the voters in question were declared valid electorates of BRS.
UDP's attorney, Estevan Perera was satisfied with the judgment and believes that the court did well in favoring his clients. At the beginning of the case, Perera told The San Pedro Sun that the objections raised against the 15 persons were not enough to provide the court with any proof or justification that they do not live in San Pedro Town. He was confident that the ruling would be on his clients' favor.
The PUP remarks on the ruling referred to the term of 'resident,' which grants you the right to be an eligible voter in a constituency. 'The Laws of Belize do not properly define the term 'resident.' To prevent corruption, the law should require that you are only allowed to be 'resident' in one place; therefore, you can only register in the constituency that you 'reside.' It is clear the Laws of Belize are not enough to prevent the 'padding' of the voters' list. The current system is unacceptable and goes against the purpose of doing a Re-registration exercise. We call on the Government of Belize to revise the Representation of People's Act to prevent corruption and secure the integrity of the voters' list.
The 15 registered electorates are now free to vote in BRS after being officially cleared by the island's judiciary system and participate in the 2020 General Elections.
Follow The San Pedro Sun News on Twitter, become a fan on Facebook. Stay updated via RSS