General Elections set for November 11th – Candidates for Belize Rural South unveil plans
Tuesday, October 6th, 2020
On Monday, October 5th, the Office of the Prime Minister announced that the next general elections would take place on November 11, 2020. In Belize Rural South (BRS), comprising of Ambergris Caye, Caye Caulker, and St. George's Caye, both candidates vying for the seat in the said constituency from the ruling United Democratic Party (UDP) and the People's United Party (PUP) have been very active in getting their message across to the electorate, who will have the last say at the polls in November.
During the morning show on Reef TV, current BRS Area Representative under the UDP, Honourable Manuel Heredia Jr., stated that his machinery is busy campaigning. According to him, about 75 campaigners are out getting his message to the community. Heredia said that the reception from his home visits continues to be favourable and he is proud of the work his campaign team is doing.
Hundreds of voters registered in BRS live on the mainland
Heredia shared that around 500 electorates do not live on the islands. "They are anxious to come and cast that X for myself," said Heredia. "And the reason is because I have taken care of my people for these past 12 and a half years." He claims to have helped in education, health, and other vital necessities. Heredia indicated that despite the limitations due to COVID-19, he has managed to find resources to continue helping students attending high school, including the secondary school evening program, which was apparently about to collapse.
New subdivision
Heredia did not say the location of this new subdivision, but it is believed to be in northern Ambergris Caye. According to him, the aim is to help those renters that have been struggling and need a piece of property so they can build their house. He mentioned that the distribution of 1,500 lots would start soon. Heredia mentioned up to 30 families currently live in this new subdivision. He explained that there has never been a subdivision complete with streets before many residents settled in. "In the next three weeks, we will complete about $5 million in streets for this area," he said. The new subdivision will also count with a brand new high school, primary and pre-school.
Heredia hopes that in the next five or ten years, the subdivision becomes a satellite city. "It has provisions for schools, for playgrounds, a fire department, a police department, and government offices," said Heredia. According to him, the subdivision is well planned and is all due to humble leadership. Heredia strongly believes that because of his leadership and having delivered to the people all these past years, he will retain his seat as BRS's Area Representative for another five years.
The topic about a hospital on the island was broached, with Heredia claiming its materialization will happen after the general elections. The Taiwanese Government will allegedly fund the building of this much needed medical facility on the island. (It is important to note that the promise of a medical facility is announced every time elections draw near, but there is never an indication of the source of funding.)
Standard Bearer for the BRS of the PUP, Andre Perez has released a 100-day plan, vowing to address several issues and needs of the islands.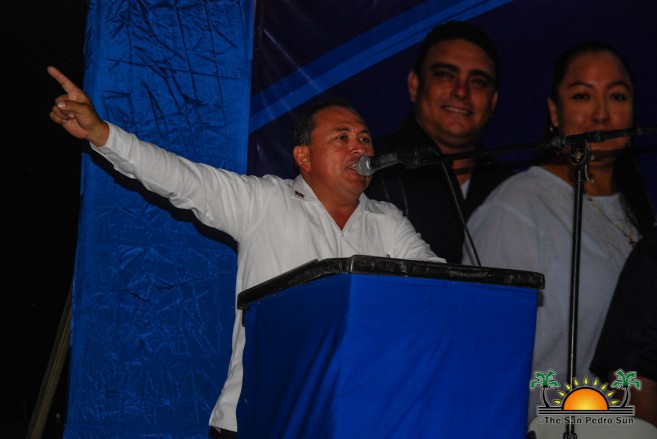 In the list, Perez highlights food pantry programs, health, economy, tourism, identifying properties to construct medical facilities on both Ambergris Caye and Caye Caulker, expand WiFi access, education assistance, and establishing a local market day on Ambergris Caye.
The 100-day plan is outlined in detail below in both English and Spanish.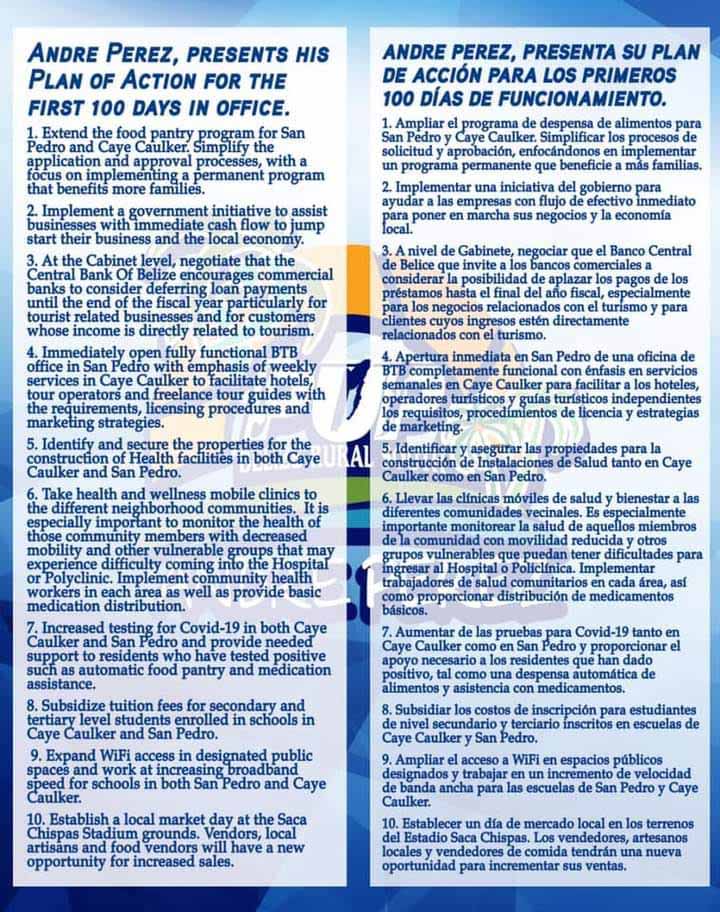 The ruling UDP will attempt to maintain its fourth consecutive term in power, while the Opposition PUP will try to grab the elections after losing control of the government in 2008. Other political parties in Belize include Vision Inspired by the People, Belize Progressive Party, and The Belize People's Front.
Follow The San Pedro Sun News on Twitter, become a fan on Facebook. Stay updated via RSS