Nomination Day: PUP and UDP candidates officially nominated for upcoming General Elections
Wednesday, October 21st, 2020
Prior to every political election in Belize, there is a Nomination Day in which candidates running for a particular constituency are nominated and in tandem, show their party's strength via mass parades. This year, neither of the two main political parties had that option, as no motorcades or mass gatherings are allowed due to the current COVID-19 pandemic. Thus, Nomination Day in the Belize Rural South (BRS) constituency (Ambergris Caye and Caye Caulker), on Wednesday, October 21st, saw restricted fanfare as the People's United Party (PUP) and the ruling United Democratic Party (UDP) officially submitted the names of their candidates (Andre Perez and Manuel Heredia Jr.) to contest the upcoming General Elections on November 11, 2020.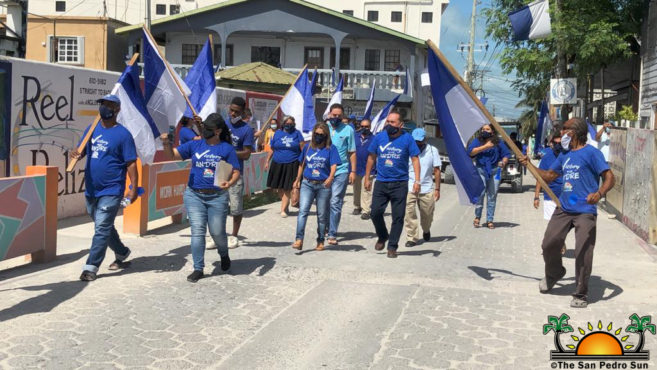 The PUP was first in heading to the San Pedro Town Council (SPTC), where their candidate Andre Perez was nominated by the required six registered voters (nominators) of BRS. After 10AM, party supporters stood six feet apart with PUP flags along the sidewalk cheering as Perez and his nominators walked east-ward on Tarpon Street. They waved along the way as they turned left onto Barrier Reef Drive heading to the SPTC building.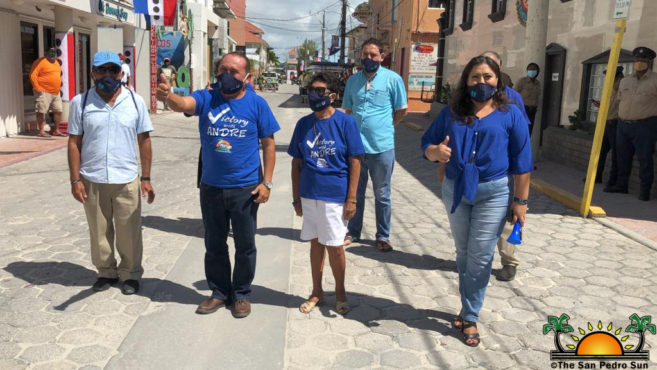 Inside the SPTC, Perez was officially nominated by Gualberto Nuñez Sr., Patricia Marin, Wendy Auxillou, Porfirio Guzman, Ahmad Harmouch, and Rosalyn Tzib. Perez' supporters cheered him on as he emerged from the building and headed back to the PUP offices by Tarpon Street. Perez sent out a message to the constituents of BRS. "I want to send a message of hope, change and a new beginning for San Pedro Town and Caye Caulker," said Perez. "It is time for us to start to put all our resources together and good leadership. I remain committed to the entire Belize Rural South and I promise you all I will embark on an ambitious program to work for everybody, as this will be a party of inclusion of everyone."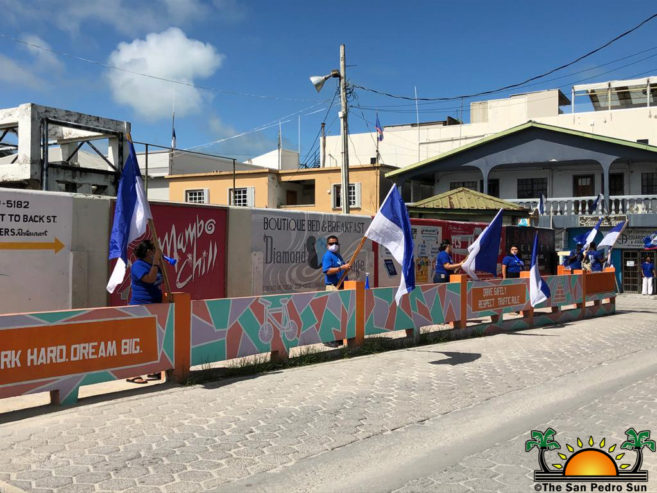 Caye Caulker's very own attorney-at-law Wendy Auxillou, shared with The San Pedro Sun why Perez got her nomination for the BRS candidacy. "Andre is a very successful businessman; he is articulate, eloquent, innovative and I believe he has great ideas that can benefit Caye Caulker. He is a great political candidate for Belize Rural South," said Auxillou. She indicated that Caye Caulker needs a wastewater system, more green areas, low-income housing, more services for people living on the north side of the island, and additional infrastructure when it comes to utilities in some residential areas of the southern part of La Isla Cariñosa. Auxillou is confident that Perez can deliver where other Area Representatives have failed to properly take care of the island.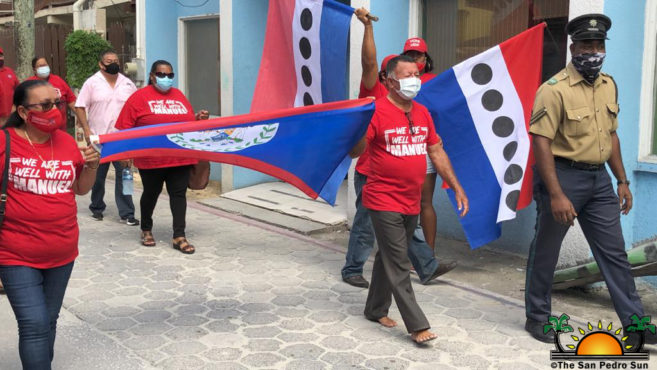 Shortly after 1:30PM, UDP candidate, Manuel Heredia Jr., walked barefooted on Pescador Drive followed by his supporters, who chanted and played music until they arrived at the SPTC. Heredia and his nominators entered the building while his supporters waited outside. He was officially nominated by Abel Dorado, Wilfredo Alamilla, Gabriela Miranda, Albert Dunn, Eva Lopez and Lillian Marin.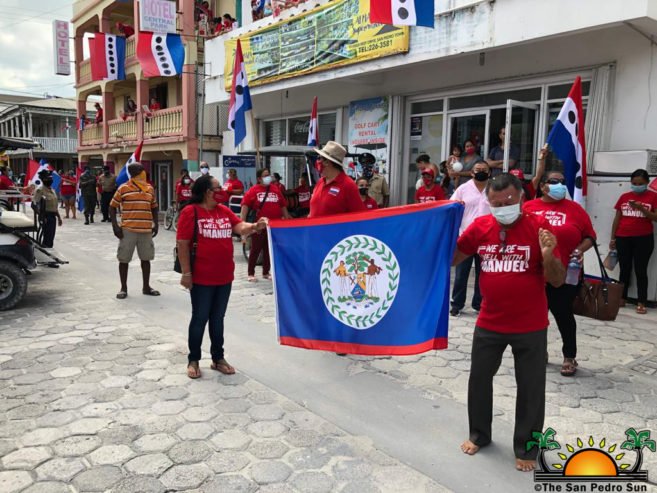 As he stepped down the stairs and to the street, the crowd of supporters welcomed him back with celebratory cheers. Heredia waved at his supporters and even danced with the Belizean flag. He and his entourage walked back to Pescador Drive where he shared some words with the media. Heredia said that he has always been there for his people and will continue to do so. "I am totally convinced that come November 11th, Caye Caulker and San Pedro will deliver for the UDP once again. I appreciate the extra effort that Caye Caulker has been doing, working hard every day to make sure that we have a victory," said Heredia. He added that the electorate will have no doubt that the UDP is a better party, with better leadership to benefit everybody, as everyone's future matters.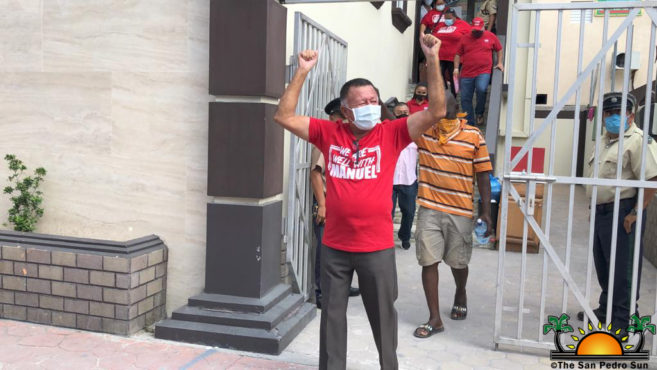 As Nomination Day came to an end, the two candidates will officially appear on the ballot of the BRS constituency on November 11th. Registered voters will be allowed to cast their vote at the designated polling stations from 7AM to 6PM. Residents in San Pedro will be voting at the San Pedro High School, and the San Pedro Roman Catholic Primary School, while Caye Caulker residents will be voting at the Caye Caulker Roman Catholic School.
Follow The San Pedro Sun News on Twitter, become a fan on Facebook. Stay updated via RSS