Americans at home and abroad await US Presidential election results; Belizeans a week away from electing a new government
Wednesday, November 4th, 2020
In the United States of America (USA), the nation's President is yet to be announced following their General Election yesterday. In Belize, citizens will head to the polls next week, Wednesday, November 11th, to elect a new government. The winner in the USA's presidential race, either Democrat candidate Joe Biden or Republican candidate Donald Trump will be announced after all cast votes are counted. A large number of votes were cast via absentee ballots due to the current pandemic; thus, a definitive winner should be announced by tomorrow, Thursday, or Friday, November 6th.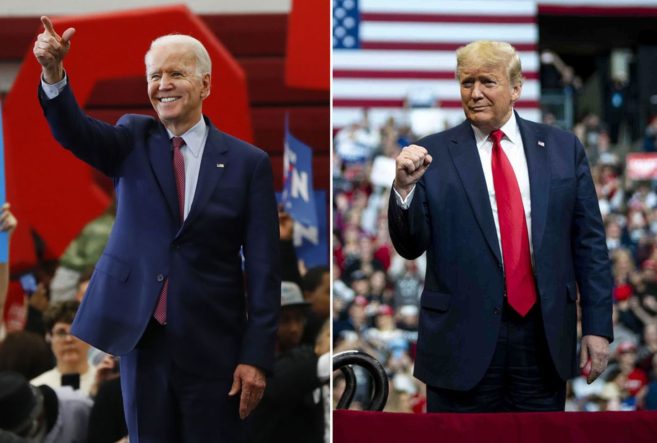 In a virtual presentation and interview, Executive Dean, Public Policy and Public Service Programs Director at the Peter S. Kalikow School of Government, Public Policy and International Affairs at Hofstra University in Long Island, New York USA, Dr. Meena Bose explained that the announcing of a new president depends on the elections returned by each state. She explained the counting process of votes in some states, including the key ones. Bose said 17 states, including Florida and Arizona allowed counting to begin before Election Day. At the same time, 16 states permitted counting to start before the polls closed yesterday. However, 17 states, along with Washington D.C, required counting after the polls closed, leading to a long evening that can stretch into days before the definite result is announced regarding the presidential election.
Key states in the election of the next American President
It will take 270 Electoral Votes to declare a new president in the United States, and currently, the winner is expected to be based on the results from five states. These include Michigan with 16 Electoral Votes, Pennsylvania with 20 Electoral Votes, Georgia with 16 Electoral Votes, Nevada with 6 Electoral Votes, and Wisconsin with 10 Electoral Votes. These States have requested additional time to count the votes as they received many absentee ballots.
At press time, Biden was leading in Michigan with 49.9%, while in Pennsylvania, Trump was leading with a solid 52%. Trump was also leading in Georgia with 50.1% of the votes, but in Nevada, Biden was ahead with a 49.3% lead. With a 49.6%, Biden was on top of the race in the State of Wisconsin.
According to unofficial reports, if a winner is declared by a tight margin of 1% at the end of the electoral process, a recount could be requested, delaying the official result even longer.
In the 2016 Presidential Elections, Trump won with 306 Electoral Votes. If he wants to keep that record, he cannot lose more than two key states without falling below the 270 number.
Meanwhile, in Belize, the General Elections results are expected to be made public the same night of Election Day. There are no absentee ballots within the country, and all votes to elect a new government are expected to be counted the same day after all polls closed. Seeking to lead the country are Honourable Patrick Faber of the ruling United Democratic Party, Honourable John Briceño of the People's United Party, Patrick Rogers of the Belize Progressive Party, and Nefretery Marin of the Belize People's Front.
Follow The San Pedro Sun News on Twitter, become a fan on Facebook. Stay updated via RSS