Hon. Andre Perez unveils plans for Belize Rural South and discusses challenges in his Ministry of the Blue Economy and Civil Aviation
Monday, November 30th, 2020
Area Representative for Belize Rural South (BRS) Honourable Andre Perez addressed his constituency via live feed on Facebook on Monday, November 30th, to discuss his plans to address issues affecting the coastal constituency immediately. As head of the Ministry of the Blue Economy and Civil Aviation, Perez gave an overview of what his portfolio is all about and thanked his constituents for the opportunity to represent them in Central Government.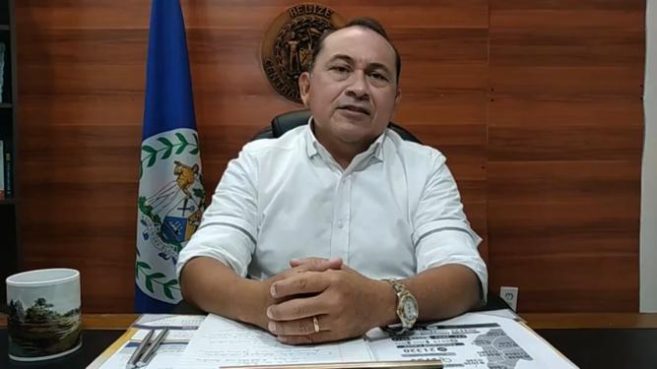 Perez indicated that the Blue Economy portfolio deals with leading the way and finding a balance when accessing the wealth of the oceans. The aim is to grow the economy and create more jobs by responsibly using ocean resources. Perez said that they would work along with environmentalists and everyone in those municipalities that advocate for preserving the local environment. He emphasized finding the equilibrium to access the marine riches without harming this fragile resource.`
Regarding Civil Aviation, its development will begin with obtaining capable staff to manage this critical department properly. Perez noted that the department's growth has been minimal, and it is time to take it to the next level.
Plans for BRS
The Area Representative said that his team is working to bring back the flu clinic at Mar de Tumbo, which was affected by the recent floods caused by severe weather. The other main issue is the deteriorated conditions of the streets caused by the heavy rainfall. Perez shared good news saying that he managed to negotiate with different parties on the island and secured 500 loads of hardcore material to fix the badly damaged streets. Perez said that when the plan is ready on how this project will be executed, the San Pedro Town Council will be informed and invited to be part of the street rehabilitation. "We will be launching a massive road restoration," said Perez. He added that expertise from the Ministry of Works would be contacted to add to the enhancement of the streets so they can count with proper drainage and more extended durability.  A similar plan is in the works for Caye Caulker Village. Works are expected to start shaping up as soon as next week.
Political cronies hard to remove
Perez pointed out that the country has been plundered, and for the past ten days, he's worked hard on planning a way forward. According to him, the task is not easy, as cronies from the past administration are embedded in today's government through contracts. His administration cannot just dismiss them because they will need to pay for 'wrongful termination.' He gave an example that getting rid of one of these persons would amount to $1.2 million in compensation. This is one of the hurdles described in navigating through the transition. These contracts are to be sent to the Attorney General for review and advice.
Belize Cruise Port Development should wait
Perez touched on the public consultation regarding Belize City's cruise port development held last week Thursday. He called on such movement to take it slow and noted that his Ministry was quite aware of it. He made it clear that such massive development has a lot to do with the Blue Economy and believes that such a project should be put on hold and instead address other urgent situations across the country like the crisis in the agriculture sector, flooding, and unemployment. "All of these things we must focus on, which require immediate short term solutions," said Perez. "We need to deal with matters affecting the people of our country." He understands that such a mega-development financially benefit the country, but at the moment, there are other urgent matters.
Perez committed to giving BRS the attention it is due and listen to his constituents' concerns. However, he asked for time to formulate a strong team to tend to the local level matters. The Minister added that his responsibility in the Ministry of the Blue Economy and Civil Aviation he will have him looking after other coastal municipalities like Corozal Town, Belize City, Dangriga Town, Hopkins Village, Placencia Village, among other areas across Belize.
Follow The San Pedro Sun News on Twitter, become a fan on Facebook. Stay updated via RSS