Dylan Arceo brings in the big fish at the 2011 Dorado Tournament
Friday, May 27th, 2011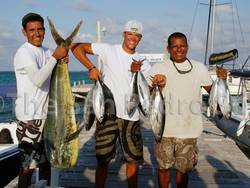 Originally set for Sunday, May 22nd, this year's El Dorado fishing tournament was postponed to Monday May 23rd due to strong winds.
The Dorado (or "mahi-mahi") fish live an average of four to five years and seldom exceed 33lbs. The Dorado have compressed bodies and long dorsal fins extending nearly the entire length of their bodies. These fish are distinguished by their dazzling colors: golden sides, bright blue and green sides and back. The mature males possess very prominent foreheads protruding well above the body while females have a more rounded head and are generally smaller in size than the males.
These fishes are known to congregate under floating objects, to follow ships and to be swift and fast-moving predators that feed on other fishes and squids. Their speed and size provides almost unequaled excitement and is the perfect challenge or extreme test for any type of fisherman. Playa Chel was the venue for this year's tournament. With eager anticipation of the day's catch, anglers took to sea at the break of dawn on Monday morning. At approximately 4:30pm, boats started pulling into the weighing station. This year saw the participation of 11 boats. At the end of the night, and after weighing was completed, the prizes and winners were as follows:
1st place Boat May I Captain Omero Graniel 90 lbs $3000
2nd place Boat Team Shark Captain James Ritchie 66lbs $1500
3rd place Boat Seaduced Captain Elito Arceo 33lbs $500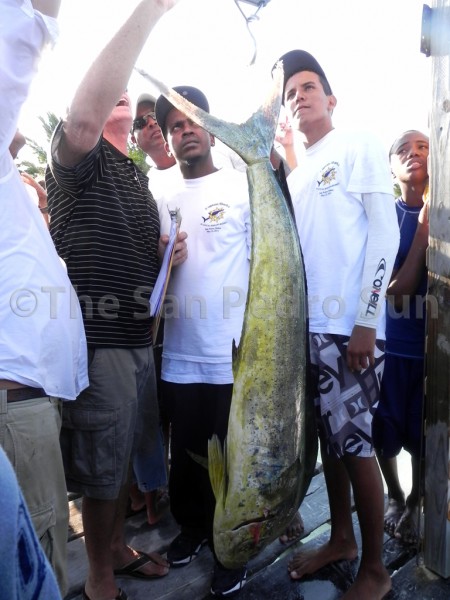 The biggest Dorado was caught by Dylan Arceo, weighing in at 33lbs. For this capture, Dylan received a prize. The biggest tuna, weighing in at 9.5lbs was also caught by Dylan Arceo who took with him $500 cash prize. While there were female anglers in this year's competition, unfortunately, none were able to capture any of the prizes.
Top Junior Angler went to Dylan Arceo, who took home an additional $250 for this title. There were also first and second prizes for the Calcutta pool. The Calcutta pool offers a fun way for bets to be placed on specific boats to win the tournament. Bidding is done on each boat, by competing boats and spectators. The highest bidder wins the boat and pays their bid to the Calcutta.
First place Calcutta went to "May I" which took home $1140 and second place went to "Captain Shark", which won $570.
Organizers of the El Dorado tournament take this opportunity to extend many thanks to Captain Sharks for their sponsorship of the tournament. They would also like to recognize Mr. Wayne Anderson of the Essene Way, for his assistance in the weighting and for being the master of ceremonies. Special thanks are also extended to participants as well as spectators and everyone who contributed to make this year's tournament a successful one.
Follow The San Pedro Sun News on Twitter, become a fan on Facebook. Stay updated via RSS