San Pedro Under-20 vs Complex Admiral ends in a draw
Thursday, June 2nd, 2011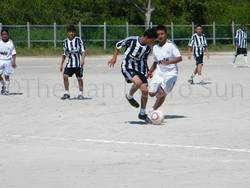 The beginning of the Belize District Football Association (BDFA) 2011under 20 regional games commenced on Sunday May 29th at the Ambergris Stadium. The first game of the season saw the San Pedro Under-20 Football Team (SPU20FT) going up against Complex Admiral of Belize City.
The afternoon football games started at 1:00pm with a preliminary game in which the SPFC's Under-16 team went up against the San Pedro R.C. School team. This game ended with the SPU16 team victorious over the SPRCS team in a score of four to zero.
Commencing around 2:30pm the game between the SPU20FT and Complex Admiral was a tight one. At about 2:55pm the game was intensified when "Pinchy" from the home team managed to score the first goal of the game. With supporters screaming and cheering their team on, shortly after, with the crowd's support, San Pedro managed to launch a second goal around 3:05pm. Shortly after, with the boys from the City intensifying their game, playing more aggressive, they managed to get their first goal in at around 3:23pm, just before half time.
Half time found San Pedro taking the lead with a score of two to one. Just about 4:00pm, Complex Admiral managed to tie the game with a penalty score. The remainder of the game saw both teams competing fiercely both on the defense as well as the offence. At the end, spectators were pleased with the game witnessed as both teams demonstrated much talent and determination.
The boys are scheduled to go at it for their second game against Ladyville United. This game is scheduled for Saturday June 11th. It is unclear at press time where and at what time this game will be played, however The San Pedro Sun will be sure to inform you as that information becomes available. The San Pedro Football Club would like to thank the following individuals for their continued support to the Club: Victoria House, Sandy Point Ltd., E & L Butane, Delmont Butane, Marion Mejia, La Divina Providencia, Dalia's Store, Tropic Air, Suzana Eiley, Rich, Mary Hawthorn, Melanie Paz, Rosita Sandberg, Cholo's, Ivan, Oscar Gutierrez, Javier Williams, Abel Lopez, and The San Pedro Sun.
As the season progresses, the team will be travelling to compete in the games. Fans and supporters are welcome to travel with the team at a discounted cost. Individuals wishing to travel to show their support and cheer on the boys may do so by contacting; Fulgencio Hoare (604-8015), Omar Moreno (631-8516) or Dennis Craft (632-5978).
Notice: Individuals who have purchased raffle tickets for the 21″ Sony brand television which was originally scheduled to be raffled on Sunday May 29th; the raffle was postponed to Saturday June 11th. The SPFC apologizes for any inconvenience caused by this change of date and further informs that tickets are still available and may be purchased by contacting any of the three numbers mentioned above.
Follow The San Pedro Sun News on Twitter, become a fan on Facebook. Stay updated via RSS