Eric, Bob, Daniel and Patricia represent in 2012 Lionman Triathlon
Thursday, September 6th, 2012
San Pedro was represented for the second year at the Belize National Triathlon Association's annual Lionman competition. The competition was held on Sunday morning September 2nd in Belize City. Starting as early as 6:30am, Team Sharks in the team competition and Kent "Bob" Gabourel, and Eric Donis in the individual competition were out gearing up to bring home the trophies.
Team Shark made up of swimmer, Eric Donis (team swimmer and individual Lionman competitor) from San Pedro; female biker Patricia Chabarria from Cayo and runner, Daniel Gregorio of San Pedro worked tirelessly and managed to take the third place trophy in the Team category with a combined time of two hours and 22 minutes. Eric Donis, part of Team Shark also competed in the ironman tournament and notwithstanding a tire blowout, managed to take first place in the junior category with a combined time of two hours, 43 minutes and 59 seconds. San Pedro's Kent Gabourel came in Fourth in the Elite category and sixth overall with a combined time of two hours 35 minutes and 16 seconds.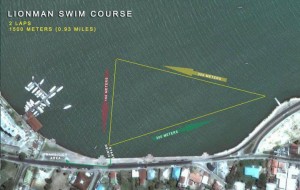 The tournament saw three legs: The first leg of the race was a 1,500 meter or .93 mile swim in-front of the eastern coast of Belize City. This was followed by a 24.8 mile bike route and ended with a 6.2 mile run.
The team that represented San Pedro was organized by San Pedro athlete, Kent "Bob" Gabourel. Gabourel's love of athletics drove him to push for a team to compete; "Last year was our first year with the national Triathlon Association and we were recognized. We partook and did really well and had very good sportsmanship. This year we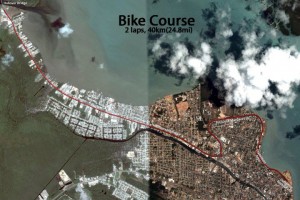 did well, but we know we could do much better." According to Gabourel, with better support, they could have performed much better; "Eric took first in the junior category for the Lionman and overall he came in 14th and that was because he had a malfunction with his bike. He had a tire puncture and had no one to render aid to him in a very short time so this caused him to drop back. He had a very good start, finishing the swim route in just a little over 26 minutes, (Eric's time for the swim was 26:05:00, the fastest swim time recorded in this year's tournament) and he eventually came in first. If only we could have gotten more financial support, we could have purchased our own equipment. The bikes that we used were
borrowed. The difference is that some of those athletes, riding their own bikes, if they get a flat they would rim their bikes until their support team can get them on another bike, that way they don't really loose any time. With us, as our equipment was borrowed we couldn't do that, because the bikes didn't belong to us and we had no support team." The bikes used by other athletes in the tournament are professional biker's bikes, which cost anywhere from $2,500 to over $10,000.
Notwithstanding some hurdles the team did exceptionally well, bringing home two trophies and medals. Team Sharks and Kent Gabourel take this opportunity to thank the following individuals that assisted in any way or form: Mr. Gabi Nuñez, Cholo's, Captain Sharks, Dimas from the Burger House, Milo Paz, San Pedro Belize Express, Minelie Rosado, Kaya Cattouse who loaned her bike and hosted the athletes for the overnight at no cost in Belize City.
The team of energetic and enthusiastic athletes has high hopes to sweep the tournament come 2013. With this said, training starts immediately for next year's competition. The team hopes to compete next year with all team owned bikes and equipment and a full support team to not only practice with but at the tournament as well. The team hopes to count on the community for support. Kent Gabourel may be contacted at 604-9013 to find out how you can either join the team as a supporter, athlete or become a financial sponsor. The San Pedro Sun congratulates the team for a job well done!
Follow The San Pedro Sun News on Twitter, become a fan on Facebook. Stay updated via RSS