Jorge Olivarez Wins Valentine Regatta
Tuesday, February 12th, 2013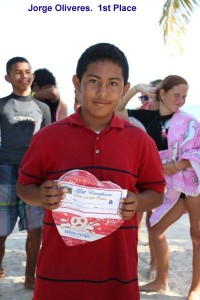 On Sunday, February 10, the wind was blowing just south of due east at a brisk 10 knots, gusting to 15, and the waters off Isla Bonita were a bit choppy. For twenty-two intrepid members of the San Pedro Junior Sailing Team, these conditions were ideal. They took to their boats for the Valentine's Regatta, held on a course off Caribbean Villas, which provided food and drinks and live music during the regatta.
The sailors were divided into four groups of 5 or six. Each group raced a 2-lap and a 1-lap race. Jorge Olivares, Kevin Velasquez, and Christian Trejo all took first in both of their races, which qualified them for the final. Racing against each other, Jerdon Anderson and Davin Puc finished 1st and 2nd,, respectively, in their first heat. Then Davin took 1st and Jerdon 2nd in their second heat. Both of them qualified for the final. Faith Noel, who twice finished in 2nd place behind Jorge Olivares, became a finalist, as did Zulema Ayala, who took 2nd twice behind Christian Trejo.
Before the final, there were three consolation races which allowed the rest of the skippers to compete against those whose point scores from their qualifying heats were similar.
Then, in the exciting final, Jorge Olivares and Faith Noel continued their duel with one another. In hot pursuit of them were Zulema Ayala who captured 3rd, Davin Puc who took 4th and Jerdon Anderson who finished 5th. Jorge once again successfully fended off Faith's relentless challenges, to win the regatta. Prize heart-shaped boxes of white chocolate fudge were awarded to the top three, and another was awarded to Joshua Marin for being the Most Improved Sailor. Joshua had demonstrated his improvement during the recently concluded Winter Series, as well as in Sunday's regatta.
Photo Gallery
Follow The San Pedro Sun News on Twitter, become a fan on Facebook. Stay updated via RSS