Two Belizean football players honored at Gold Cup Finals
Wednesday, July 31st, 2013
The Belize National Football Team – Belize Jaguars – made its first and historic performance at the CONCACAF Gold Cup 2013, but after losing all three games, they returned home. However, Woodrow West and Ian Gaynair of the national team were present at the final game of the tournament. They attended the game at the invitation of UNCAF President Rafael Tinoco, where they received an award before a packed stadium.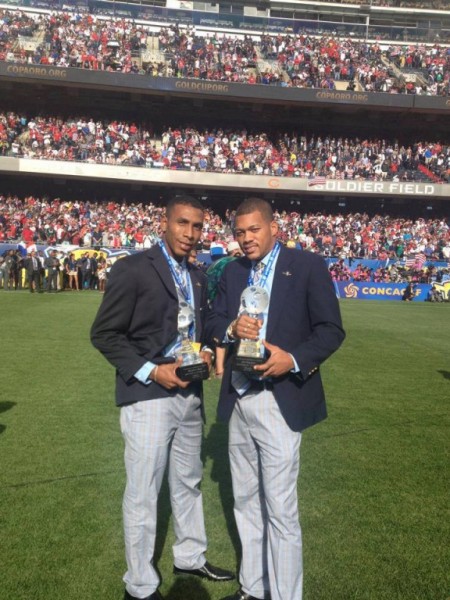 Just before Belize's first game, the two men were each offered a few thousands Euros in exchange of fixing game 1 of the group play in the Gold Cup. The international recognition was given to them for taking a stance, thus refusing a bribe to have the football match between Belize and USA fixed. CONCACAF applauded their honesty and their position to reject "game fixing," something FIFA and all its affiliate organizations highly condemn. The position taken by West and Gaynair gained international attention from the press, with CONCACAF issuing a congratulatory release a few days after the incident, applauding the braveness of the two Belizean players.
At the award ceremony that took place in Chicago, USA, following the final game between USA and Panama, in which the USA won the 2013 Gold Cup, the two footballers were presented with a special trophy and were also guests at the President's Banquet.
The Belize Olympic Committee will also be awarding West and Gaynair with the Gilmore Kenkson Fair Play Trophy on August 5th. The award is in memory of Gilmore Henkson a secretary of the Belize Olympic Committee for many years. The award will be given to the two football players by the Governor General of Belize, His Excellency Sir Colville Young.
Follow The San Pedro Sun News on Twitter, become a fan on Facebook. Stay updated via RSS