Gabourel & Santos to represent Belize in 2014 Commonwealth Games
Friday, November 8th, 2013
Local triathlon star athletes, Kent "Bob" Gabourel and Jordan Santos will be travelling to Glasgow, Scotland to represent Belize in the upcoming 2014 Commonwealth Games. The Games will be held from July 23rd to August 3rd, 2014, with over 70 countries participating.
In an interview with The San Pedro Sun, Gabourel expressed his thoughts and excitement on the games. "This is an honor for me. I have always wanted to represent my country at an international level, but I never thought that it would be in this discipline, triathlon. I intend to dedicate much of my time to prepare for the Commonwealth Games in order to do the best I can for my country. In order to prepare for this event we need the full support for the community and the country on a whole," said Gabourel."I aim to be a positive role model for all youth interested in athletics in whatever discipline it may be. I encourage all those interested in sports to pursue their dreams, because dreams do come true," said Gabourel.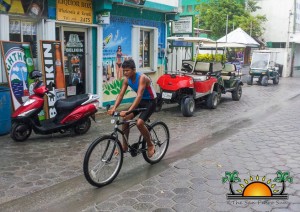 Santos is the youngest athlete to represent Belize at an international level, and he is even working on qualifying for the Youth Olympics Games.
Traveling as part of the team along with Gabourel and Santos is Kaya Cattouse of Belize City, who is also a triathlon star athlete. All three participants will be competing in other races prior to the Common Wealth Games.
Travel expenses will be high, and Gabourel is asking for community support to help in their fundraising efforts to purchase equipment and help offset travel expenses. To make a donation towards the cause, you can contact Gabourel at phone number 604-9013.
Follow The San Pedro Sun News on Twitter, become a fan on Facebook. Stay updated via RSS