San Pedro High School Boys are 2015 Northern Regional Champions!!
Thursday, February 12th, 2015
The Secondary Level Northern Regional Football Competition was held in Santa Clara Village in the Corozal District on Saturday February 7th. Eight teams competed; four females and four males. At the end of the day's competition, San Pedro High School Boys moved on in the Male division and Orange Walk Technical High School moved on in the female division.
Competing teams were: Males: Belize High School of Agriculture, Bishop Martin High School, San Pedro High School (SPHS) and Escuela Secundaria Mexico. In the female division were: Corozal Community College (CCC), New Hope High School, San Pedro High School SPHS and Orange Walk Technical (OWT).

Games started after 8AM with the girls taking to the field: CCC went up against New Hope in a game that ended in a 1 – 0 score in favour of CCC. SPHS were next, and lost to OWT, in a score of 0-1.
Game three saw SPHS Boys going up against Escuela Secundaria Mexico. Jose Chimal aka "Chicky" placed SPHS Boys on the Score Board scoring the first goal within the first 25 minutes of the game. This was followed by two more goals by Chicky, and Edley Godoy scored the 4th and final goal of the game, giving the SPHS a 4-0 win over Escuela Secundaria. With this win, the SPHS Boys moved on to the finals.

In the final round in the female division, the girls from CCC were unsuccessful, suffering a not so terrible loss to Orange Walk Technical in a score of 1 – 2.
The highlight of the tournament had to be the final game, which saw SPHS Boys going up against Bishop Martin High School. This game started late into the evening. And by the end of the second quarter, the game was tied at 2-2. Over time was allotted– with both teams getting an extra 15 minutes to break the tie. Even with the additional time, neither team was able to break the tie, and by the end of the game, night had fallen. As the infrastructure was not conducive to night games, the penalty section of the game was moved to San Narciso village.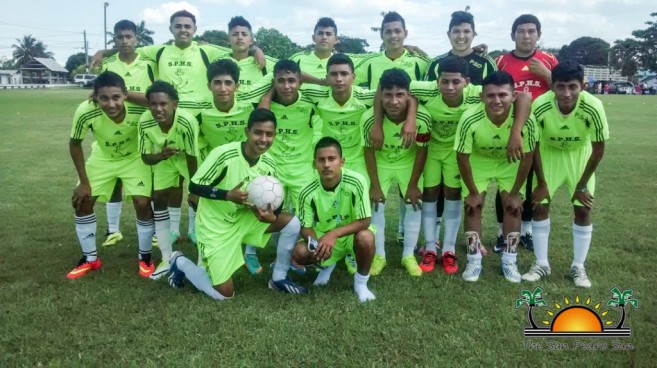 Each team got a chance to kick 5 penalties. Goal Keeper for San Pedro, Alex Cadle – stopped the 3rd penalty from Bishop Martin. This gave SPHS boys the upper hand, which they took advantage of and landed two more goals; ending the game in a 7-6 game in favour of SPHS Boys. With this win, the SPHS boys are named Northern Regional Champions.
The Northern Regional Champs will face off against the other regions on February 20th and 21st in San Ignacio at the Nationals. The San Pedro Sun takes this opportunity to extend hearty congratulations to both teams that represented San Pedro at the Northern Regionals and extend our best wishes to the SPHS Boys in the upcoming Nationals.
Follow The San Pedro Sun News on Twitter, become a fan on Facebook. Stay updated via RSS