Tiger Sharks take first big bite out of Belmopan Red Tiagaz
Thursday, February 12th, 2015
The Belize National Elite Basketball League (NEBL) kicked off its 2015 season over the weekend and for the San Pedro Tiger Sharks, they started on the right "fin". On Saturday February 7th, the Tiger Sharks took their first win of the season at the Belmopan Red Tiagaz to pick up their first three points of the tournament. The game was played at the University of Belize (UB) gymnasium in the Garden City of Belmopan and did not disappoint fans who went to witness the match.

Defending champions San Pedro Tiger Sharks started with Darwin Leslie, Tyrone Edwards, Ashton Edwards, Raul Rochez and James Milton. Home team Belmopan Red Taigaz featured Terrel Eskridge, Christian Rodriguez, Jarrel Velasquez, Travis Lennon and Farron Louriano on their starting lineup. San Pedro Tiger Shark' newcomer, James Milton led the charge capturing 20 points and 8 rebounds, while Darwin "Puppy" Leslie finished the game with 18 points. Andrew "Bynum" Ortiz and Densmore Edwards chipped in with 12 points each, while Ashton Edwards netted 10 points. In a losing effort, Belmopan Red Taigaz was led by newly acquired Travis Lennen, who had 15 points and 7 carries, while their American point guard, Terrell Eskridge, finished the game with 12 points and 4 assists. Last season's MVP, Farron Louriano had an off night, only tallying 9 points and 7 boards.

From the start of the game, the San Pedro Tiger Sharks picked up an early lead, and they proceeded to win all four quarters in a score of 30 to 16, 15 to 12, 30 to 21 and 25 to 16. At the end of the game, the mighty San Pedro Tiger Sharks walked over the home team in undisputed score of 100 to 65. Congrats Tiger Sharks!

Results from the other games played are as follows:
Dangriga Warriors (78) vs Belize City No Limits (54)
Orange Walk Running Rebels (80) Vs Toledo Diplomats (65)
Cayo Western Ballaz (85) Vs Belize Hurricanes (52)
San Pedro Tiger Sharks full team consists of: Darwin Leslie, Tyron Edwards, Ashton Edwards, Raul Rochez, James Milton, Louis Pitterson, Douglas Valley, Andrew Ortiz, Jamal Kelly, Densmore Edwards, Rico Black, Afrie Black, Lynden Galvez, Doug Penland and Sherwin Hope.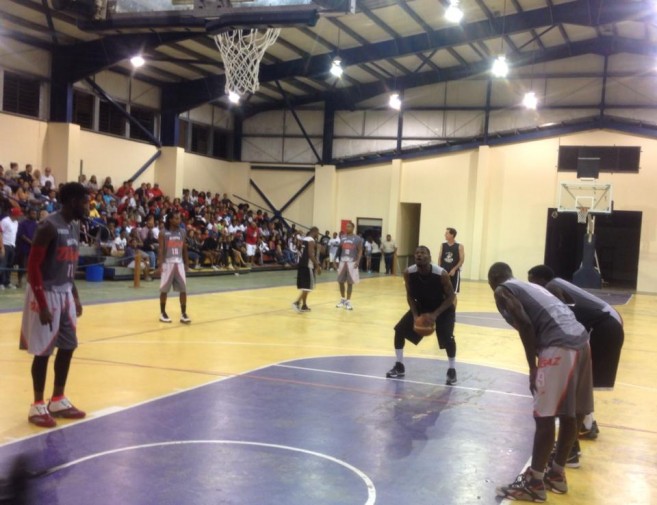 Game two for the San Pedro Tiger Sharks will see the islanders facing the Cayo Western Ballaz on February 13th in Santa Elena, Cayo starting at 8PM. That game is expected to be one of the biggest in the regular season as the San Pedro Tiger Sharks won the Ballaz to claim the championship in the 2014 season.
Follow The San Pedro Sun News on Twitter, become a fan on Facebook. Stay updated via RSS