Belizean-American Justin Williams wins the 87th Cross Country Cycling Classic
Friday, April 10th, 2015
Belizean-American Justin Williams captured the garland for Belize at the 87th annual Cross Country Cycle Classic on Holy Saturday. Thousands of Belizeans rejoiced when Williams crossed the finish line from amongst 100 riders including 25 foreigners. The annual event saw the cyclists ride from Belize City and into the westerns hills up to Santa Elena/San Ignacio, then back to the old capital for a total of 142.8 miles.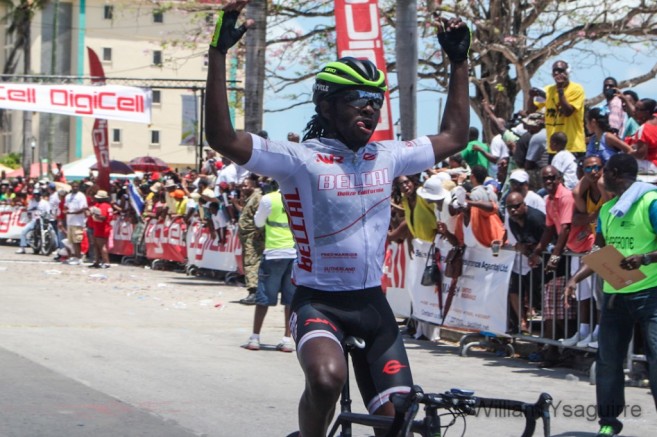 After the ceremonial ride through Belize City from the BTL Park to the Faber's Road, the riders took off with high hopes of capturing the garland. The 2014 defending Champion, Mexican cyclist Juan Pablo Magallanes, was not in the line-up of the race as he is currently participating in a two-week event in Mexico. However, six former champions completed the start-up, which included Darnell Barrow, Giovanni Choto, Shane Vasquez, Michael Lewis, Chris Harkey and Bill Elliston.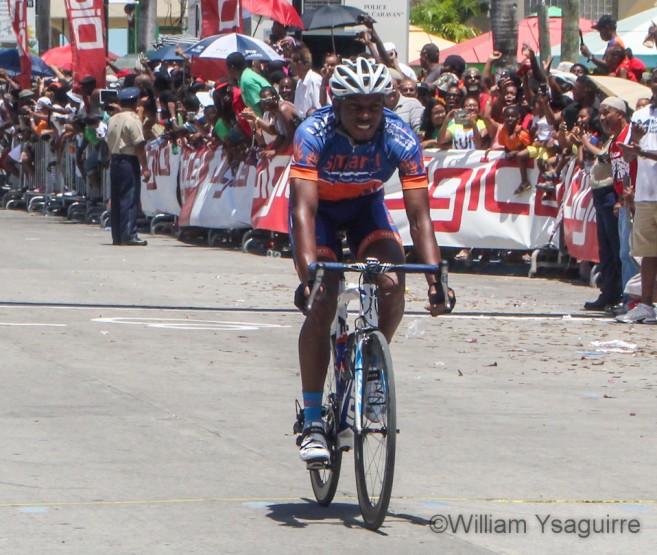 Early into the race at mile 18, seven riders successfully separated themselves from the main peloton of riders. These included Richard Santiago, Erwin Middleton, Aiden Juan, Shane Vasquez, Scotty Weisse and brothers Corey and Justin Williams. Throughout the race, the group of seven worked cohesively and very hard, trying at all times to extend their lead from the main peloton. Near Rockville at the Gracie Rock Village junction, the lead of seven remained unchanged. However less than a minute behind a second group of six broke away from the main peloton. The six rebel-riders consisted of Peter Choto, David Henderson Jr., Phillip Leslie, Leroy Cassasola, Delon Gentle and Mexican rider Yayir de Jesus Jimenez Godinez.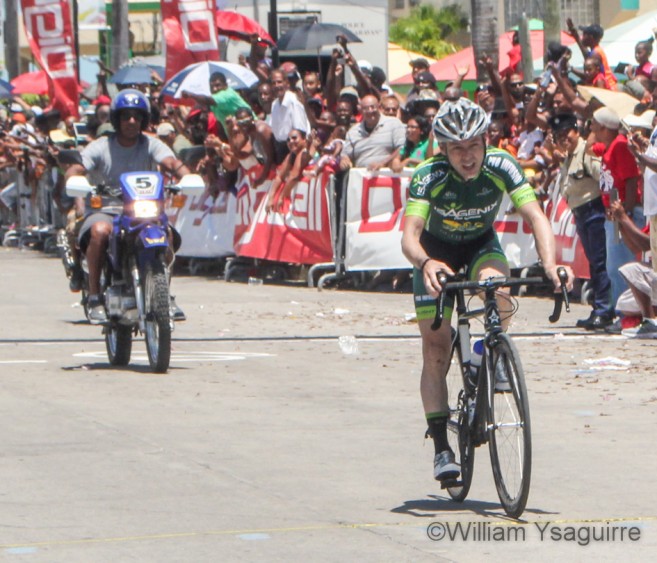 Near La Democracia Village, Leslie and Godinez fell behind and around mile 27, there was a merger of the original seven riders and four from the chase group. Leading the 11 riders were Belize's Shane Vasquez of Western Spirits, followed by American Scotty Weisse of Team Starlight, Erwin Middleton of Benny's Megabytes, Richard Santiago of Team Digicell, Justin and Corey Williams of Team Bel-Cal, Guy East from Santino's, David Henderson of Smart Zoom, Leroy Cassasola of Team Santinos, Peter Choto and Aiden Juan of Team C-Ray.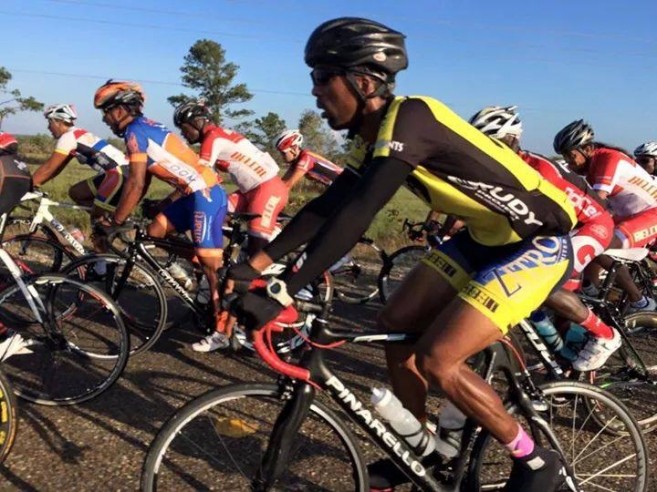 When the race passed by the Belmopan City junction, David Henderson Jr. claimed the station prize, winning $950 cash and an assortment of other prizes. Midway into the race at the Hawksworth Bridge, Henderson Jr. was the first to cross, leading the group of 11 riders. He captured the station prize which included a $400 gift certificate, a return ticket on Maya Island Air, $200 cash and a cellular phone. Five minutes behind was Giovanni Choto of Team Digicell who worked hard to catch up, and 30 seconds after was the main peloton. By this time, the lead group of 11 had almost a four-minute lead.

On the return to Belize City at Mile 41, the group of 11 had splintered, and was now down to five, which consisted of Mexican Godinez of Cancun, Justin and Corey Williams of Bel-Cal, David Henderson of Smart Zoom and Scotty Weisse of Starlight. The group of five was almost six minutes ahead of the chase group, and almost eight minutes ahead of the main peloton.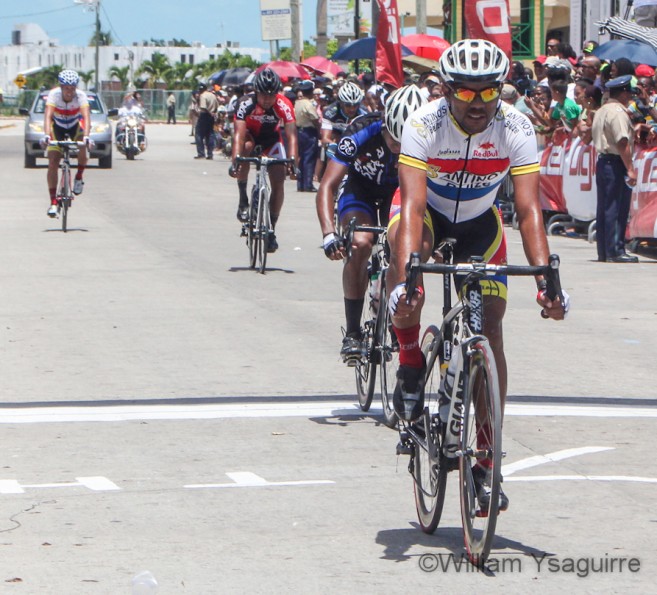 When the riders rode into Belize City near the Lord Cemetery, the five leading riders began picking up the pace. City folks lined up along the street cheering for three Belizeans and this time all across the country Belizean locked on to the radio, knowing that there was 60% hope of the garland staying at home. Closer to the finish line, Belizean-American Justin Williams led the sprint to the finish line. Williams took a glimpse behind and noticed his competitors a few seconds behind and then raised his hands into the air as he passed finish line in victorious fashion. He clocked in at 5:54:39 claiming his first Cross Country title and keeping the garland at home.
American Scottie Weisse came in second place followed by David Henderson Jr. for third. Fourth place was Mexican Yayir de Jesus Jimenez Godinez of Cancun Cycling, and Justin's brother Corey Williams rounded up the top five riders.

"I have so much pride right now… I am so happy. There was a couple times in the race I was hurting, but I just kept thinking to myself. I kept on saying that I got to do it for the country and I just rode on pride," exclaimed Justin Williams on his victory.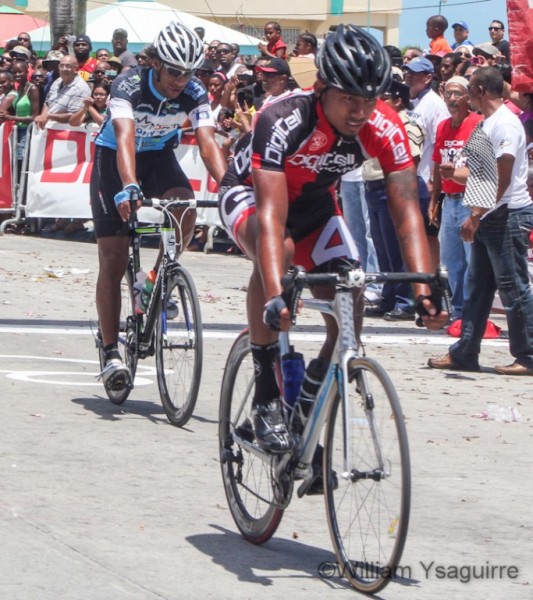 Williams' prizes included a $6,000 1st place cash prize sponsored by Digicell 4G, and as the first Belizean to win the Cross Country since 2013, he won a $10,000 prize from Massy United Insurance, a $5,000 prize from the Ministry of Education and Sports, $250 from LC Distributors and a parcel of land from the Ministry of Natural Resources. He also won over $2,240 in station prizes.

The other riders on the top 20 included:
2nd – Scottie Weisse of Team Starlight of USA– 5:54:39 – $3,400 in finish prizes, plus $4,135 in station prizes
3rd – David Henderson Jr of Team SMART Zoom – 5:54:39 – $2,000 prize & 9 station prizes: $850
4th – Yayir de Jesus Jimenez Godinez of Team Cancun – 5:54:53 – $1,000 & 10 station prizes $1,775
5th – Cory Williams of Team BelCal- 5:54:53 – $800 prize & 21 station prizes: $2,950
6th – Byron Pope of Team Benny's Megabytes – 6:01:07 – $600 prize
7th – 2003 and 2004 Cross Country champ Chris Harkey of Team Starlight – $425
8th – Manuel Rodas (Mexican) of Team SMART's – $325 prize
9th – Jose Choto of Team C-ray Road Addikz – 6:01:21 – $225 prize
10th – Jose Robles (Colombian) of Team Western Spirits – $150 prize and 1st place in Master – $175 prize
11th – Rashawn Bahati (American) of Team Belize Link Up- $100 prize
12th – Hector Rangel (Mexican) of Benny's Megabytes- $100 prize
13th – 2005 Cross Country champ Bill Elliston (American) – $100 prize
14th – John Delong (American) of Team Starlight – $100 prize
15th – Luis Alberto Balam of Team Predators – $100 prize
16th – Leroy Cassasola of Team Santino's "Ride to Victory"- $75 prize
17th – Tarique Flowers of Team Benny's Megabytes – $75 prize
18th – Richard Santiago of Team Digicell 4G – $75 prize
19th – 2006 Cross Country champ Shane Vasquez of Team Western Spirits – $75 prize
20th – Guy East (American) of Team Santino's – $75 prize.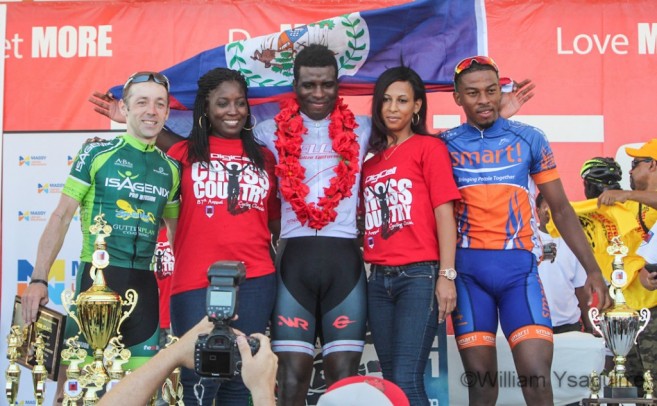 Of note is that, for the first time, Ambergris Caye cyclists Kent "Bob" Gabourel, and Russell Dominguez participated in the race. Unfortunately, Gabourel suffered a blowout on his front wheel as he entered into Belmopan City. The blowout sent him to the pavement where he sustained injuries that caused him to lose momentum in the race. Neither Gabourel nor Dominguez completed the race, but both are already making preparations to participate in next year's Cross Country Classic.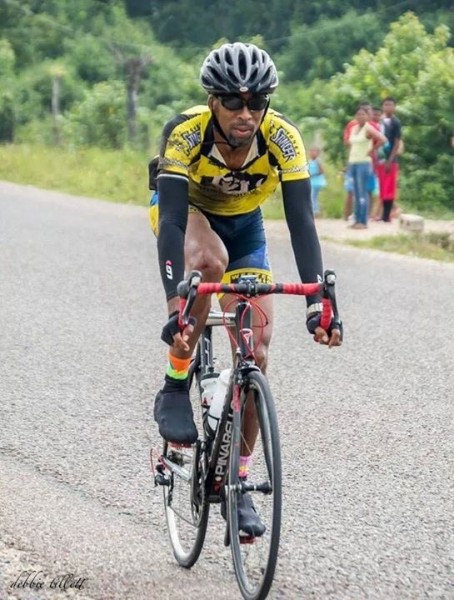 For context, Justin Williams has been riding in the Cross Country since the age of 14, and now in 2015, 11 years later, he has captured his first championship. In 2013, his name came up in cycling in Belize when he finished at an impressive fourth place. That was the year Darnell Barrow captured the title and the last time a Belizean won. Williams also completed the race 14 minutes over Ryan Bauman's record set in 2008 setting a new record 5:54:39.
Follow The San Pedro Sun News on Twitter, become a fan on Facebook. Stay updated via RSS