San Pedro Tiger Sharks make it to the NEBL Playoffs
Wednesday, May 6th, 2015
The San Pedro Tiger Sharks claimed their seventh win in the regular season of the National Elite Basketball League (NEBL) on Saturday, May 2nd. The defending champions, were able to get an 81-91 victory against the Dangriga Warriors at the Ecumenical College Auditorium in Dangriga Town, which earned them a coveted spot in the playoffs. Also securing a spot in the playoffs this past weekend were the Cayo Western Ballaz and the Belmopan Red Taigaz.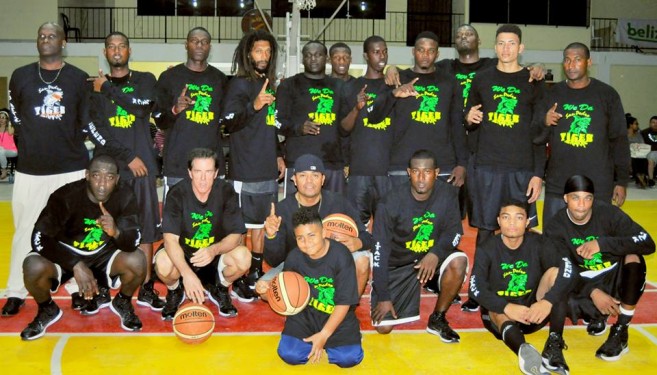 The Tiger Sharks had a great start from the beginning of the game, extending their lead to 21 points in the third quarter. Even after gaining a two point lead in the fourth quarter, The Warriors still fell short by two points at the end of the match. San Pedro Tiger Sharks was led by Milton James who finished with a double-double with 23 points and 13 rebounds, while Darwin "Puppy" Leslie scored 22 points and grabbed six rebounds. Ashton Edwards and Raul Roches scored 14 and 10 points respectively.
In the other two games of the weekend, the Belize City No Limit defeated the Cayo Western Ballaz, while the Belmopan Red Taigaz defeated the Orange Walk Running Rebels. Even though Western Ballaz lost their match, their previous seven victories earned them a free ride to the playoffs, as did the Red Taigaz who also have seven wins. With three teams secured in the playoffs, the four remaining teams (Dangriga Warriors, Belize City No Limit, Belize Yellow Pages Hurricanes and Orange Walk Running Rebels) must battle it out in the next round of games to see who will take the last playoff spot. Playoffs are scheduled to kick off on Friday, May 22nd with two semi-final games, followed by two more games on Saturday, May 23rd. Both the semi-finals and the finals will be a best-of-three series.
Current NEBL standings are as follows: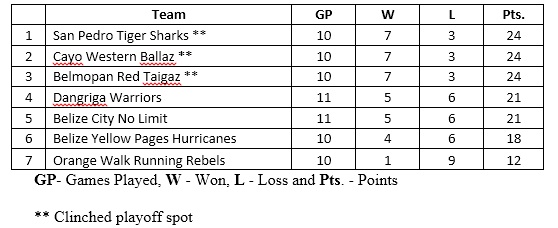 The next round of games will see the San Pedro Tiger Sharks facing off against the Belize City No Limit at the Angel Nuñez Auditorium on Saturday, May 9th. Other games include the Belmopan Red Taigaz against the Belize Yellow Pages Hurricanes at the Belize Elementary Gym in Belize City on Friday, May 8th and the Cayo Western Ballaz against the Orange Walk Running Rebels at the Sacred Heart College Auditorium in San Ignacio Town. All games commence at 9PM sharp.
Fans are reminded that all games have a live webcast with the game scores, play-by-play analysis and the box scores for all games. Fans can follow every game live on the NEBL's webpage, as scores are in real time. The NEBL webpage also contains news, team standings and player statistics and it can be found at www.nebl.sportingpulse.net.
Follow The San Pedro Sun News on Twitter, become a fan on Facebook. Stay updated via RSS