Martial Arts Master introduces Muay Thai Fitness program
Monday, September 21st, 2015
Local San Pedro resident Barry Goldberg is pleased to introduce a new fitness program for islanders. GSDA (Goldberg Self Defense Academy) is reality based for stimulating training on the beach, specializing in Muay Thai Fitness training. This discipline combines the best techniques from Wing Chun (China), Krav Maga (Israel), and Muay Thai (Thailand), forming an easy way to learn self-defense and martial arts. Barry's passion for training and teaching martial arts took him to Asia (China) where in 2012 he created his own program, which has been formally certified by the Zhongshan China Wing Chun Association.

After several years in China, Goldberg has returned to his roots in San Pedro Ambergris Caye, and is excited to share his love of the sport. Due to the nature of the classes and the importance of providing individual attention, Goldberg deals with groups of eight persons maximum. Classes can be held at any location of choice. "The training can take place in places such as your home, office or even at a fun event at your favorite beach," says Goldberg "Students learn self-defense; how to protect themselves in compromising situations, while the Martial Art Fitness segment is for toning muscles, releasing stress and unwinding."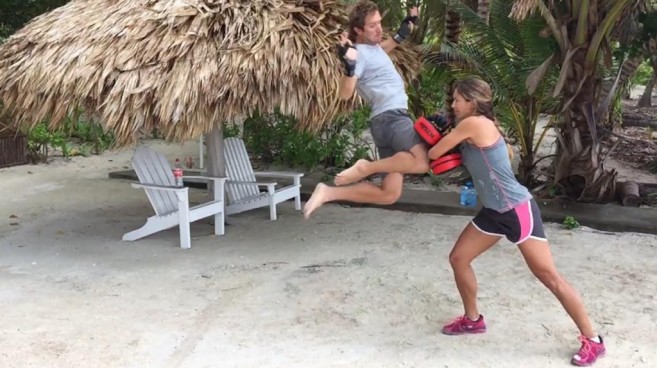 Booking a training session is as easy as calling 636-8892 to arrange a location and time. Goldberg is prepared with all equipment, including first aid kits and of course, an immense load of knowledge. Classes range from 60-90 minutes, with a local price of $25-$100 BZ, depending on the type and size of group. "We also specialize in team building and customized classes along with seminar services. This fitness program is good for everybody regardless of age or gender," Says Goldberg.
Now back in Belize, Goldberg is also working with the Belize Police Department, and also looking forward to establish himself in San Pedro. For more information, to make a booking or consultation, interested persons can call Goldberg at 636-8892 or visit the web page www.gsda1.com or email at [email protected] Everyone is also encouraged to visit their Facebook fan page GSDA
Follow The San Pedro Sun News on Twitter, become a fan on Facebook. Stay updated via RSS