Kent Gabourel wins Weekend Warriors' race against the clock
Monday, February 15th, 2016
Kent "Bob" Gabourel of the Kulture Megabytes team won "race against the clock" with the best time of 25 minutes 45 seconds, when the Weekend Warriors Cycling Club held individual time trials over an 11.5-mile course on the Burrell Boom bypass road from the Data Pro junction with the Philip Goldson Highway to the Hattieville Cemetery on Sunday morning, February 7th.

Gabourel won the A category, in which Daniel Cano and Warren Coye of the Santino's team ranked 2nd and 3rd respectively, clocking 25:52 and 26:55. Robert Mariano of the DigiCell 4G team was 4th in 27:09; Isaiah Willacey of the F.T.Williams team was 5th in 27:15; and Fitzgerald "Palas" Joseph was 6th in 27:18.
Clarence Tesecum of the F.T. Williams team won the B category in 28:49; Ryan Willoughby of the SMART Zoom team was 2nd in 30:03; and John Burns of the DigCell 4G team was 3rd in 30:05. Santino "Chief" Castillo and Francis Cassasola of the Santino's team were 4th and 5th respectively in 30:22 and 30:32; and Albert Conorquie of the Sugar City United team was 6th in 30:39.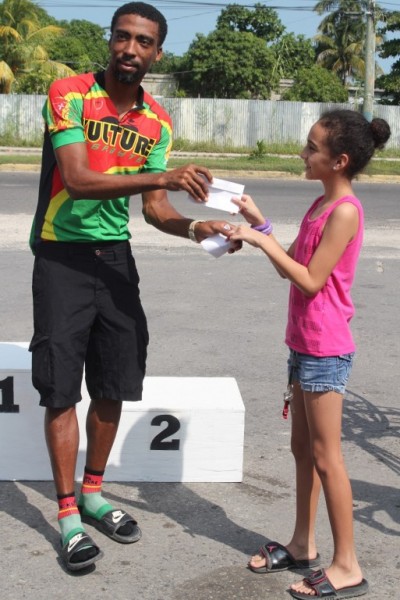 Ingmar Perrera of the Stationery House/Medina's Jewelry team won the C category in 32:44; Dr. David Madrid of Truckers Posse was 2nd in 33.42, and Maynard Bood of the DigiCell 4G team was 3rd in 33:42. Savinus Flores of the Sugar City Uinted team was 4th in 33:55, Steve Gill of the SMART team was 5th in 34.36 and Hewald Humes, also of the DigiCell4G team was 6th in 34:42.
Follow The San Pedro Sun News on Twitter, become a fan on Facebook. Stay updated via RSS