Los Catrachos FC leading Five-a-side Football Tournament
Monday, March 21st, 2016
The San Pedro High School (SPHS) and Island Citizen Sporting Club (ICSP) Five-a-side Football Tournament is now in its 11th round of games. And while all teams remain competitive, one has remained on top of the leader board from the start of the competition. Currently Los Catrachos FC are leading the tournament will 27 points, only having lost one out of their 10 matches. But they can't be too comfortable, as other top teams like United FC (26 points), Scorpions FC (24 points), Pro Drivers FC (22 points), We Them Boys (21 points) and Island Pure FC (20 points), still have time to take the lead and claim the second championship of the Five-a-side Football Tournament. The next couple of weeks will be interesting as the tournament starts heading into the final games.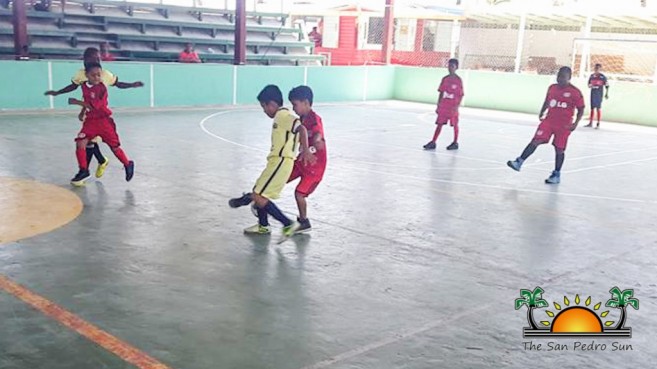 Full results for the 10th round of games are as follows:
Friday, March 11th:
Game one: Boca Bombers 6 – 2 Harmouch FC; Game two: We Them Boys 7 – 6 Costa Blue FC; Game three: United FC 2 – 1 Los Catrachos FC; Game four: San Juan FC 1 – 5 Empire FC
Saturday, March 12th:
Game one: Boca Jrs 1 – 0 Caye Caulker Boys; E&L FC 6 – 4 Victoria House FC; Island Pure FC 10 – 5 Costa Blue FC; Boca Bombers 5 – 0 Reef Sharks
Sunday, March 13th:
Game one: FC America 2 – 0 Bayern Leverkusen; Game two: Bayern Munich A 8 – 2 Bayern Munich B; Game three: Scorpion FC 4 – 4 Liverpool FC; Game four: Manchester FC 2 – 4 Green Hornets; Game five: United FC 8 – 2 Empire FC; Game six: We Them Boys 7 – 2 San Juan FC; Game seven: Pro Divers FC 1 – 0 Harmouch FC; Game eight: Los Catrachos FC 6 – 3 Los Dorados FC

The next round of games will start on Sunday, March 20th at the Angel Nuñez Auditorium. Everyone is invited to come out and support their favourite team. Drinks and food are on sale.
Follow The San Pedro Sun News on Twitter, become a fan on Facebook. Stay updated via RSS