Ambergris Stadium in its final stage of completion
Thursday, June 23rd, 2016
The highly anticipated Ambergris Stadium sporting complex is in its final stages of construction. Since the project launched in September 2015, much visible progress has been made, with only finishing touches left. Christy Mastry from Belize Infrastructure Limited confirmed to The San Pedro Sun that the stadium should be completed by September 2016.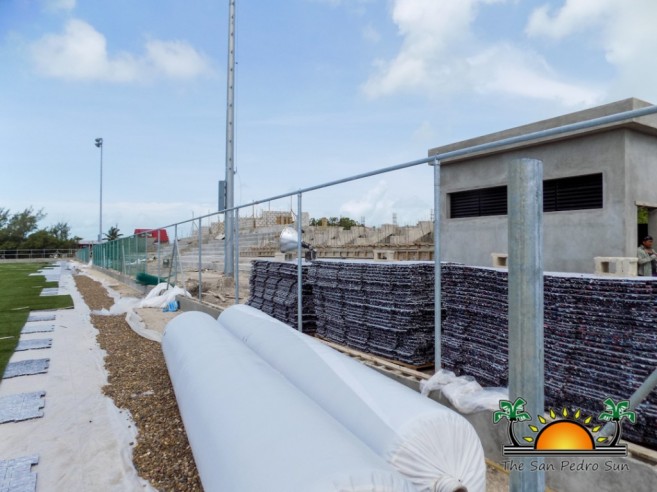 This stadium will come equipped with a regulation pitch, locker facilities, concession stands, bathroom facilities, and a storage unit. The multi-purpose stadium will also be suitable for softball, running and track and field. So far, synthetic grass has been compacted, stadium lighting has been placed, part of the bleachers have been installed, the VIP section and broadcast booth is done, and the concession stands are finished.
Currently, only the bathrooms, and the other half of the bleachers are left to be finished.
Hector Alamilla, Councilor at the San Pedro Town Council (SPTC), states that the time frame for the project has been on schedule. "The stadium is coming along well, and is arranged to be handed over to the municipality in September. Both Mayor Daniel Guerrero and I are pleased with the progress of the stadium, and look forward to hosting the finest games in San Pedro," said Alamilla.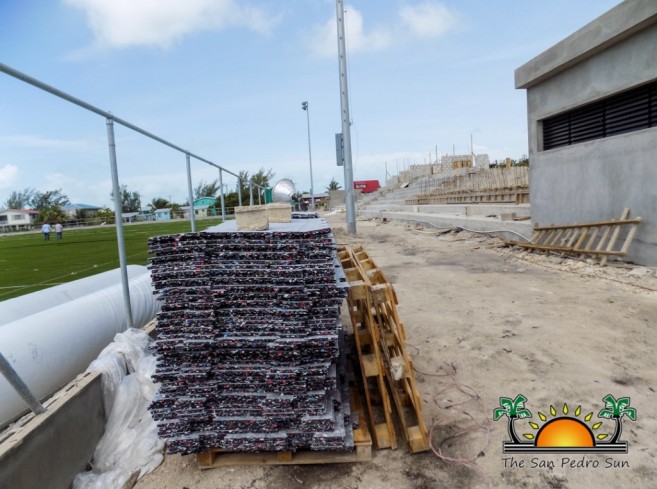 However, with any new development, the SPTC has seen its fair share of criticism. There have been complaints about the usage of synthetic grass over natural grass. According to Alamilla, the synthetic grass is something the SPTC studied keenly. In the past, the SPTC has used natural grass, but it did not last, so the field was filled with sand instead. He also notes that salt air is a serious issue in San Pedro, and it kills grass if it is not properly maintained.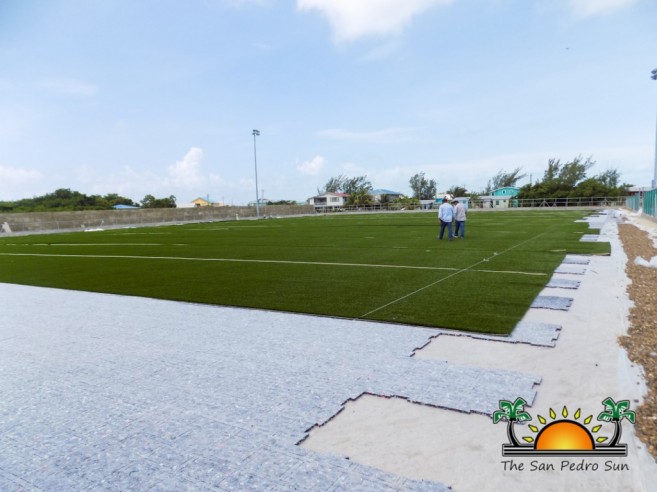 "The only problem with synthetic grass is the heat, but right now, most of our games are played in evenings. I believe that it will not be a problem because the heat from the sun should go down by then. The synthetic grass also provides the proper mechanisms suitable for all weather conditions, especially rain. If it rains, the field has sufficient drains," said Alamilla.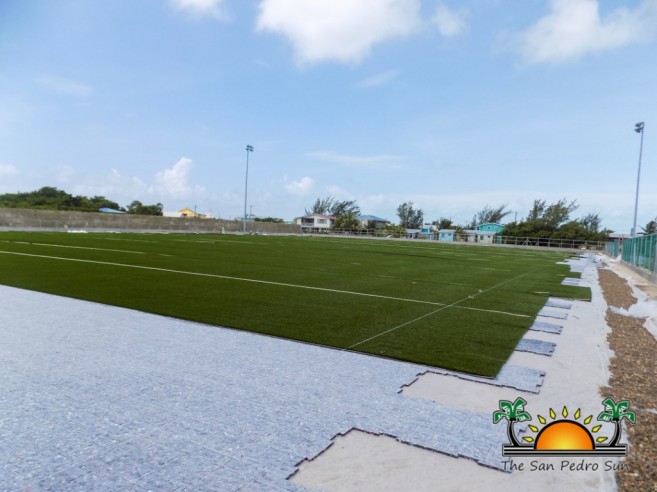 The SPTC is currently in the planning stage for its inauguration. Alamilla mentioned that local and mainland Belizean footballers will play a neighboring country for the opening game.
Follow The San Pedro Sun News on Twitter, become a fan on Facebook. Stay updated via RSS