Ian Pou called to train with Belize's U- 17 football selection
Friday, September 9th, 2016
Belize is preparing to participate in the FIFA Male Under-17 World Cup Eliminations taking place on November 17-26, 2016 in Costa Rica. San Pedro's Ian Pou is once again on the list of 29 selected players from across the country chosen by the Football Federation of Belize (FBB). The players were called for training at the FFB headquarters in the City of Belmopan from September 9th to the 11th.
This is not the first time the talented Pou has represented Ambergris Caye and Belize internationally. Pou also had the honour of representing the country at the Central American Football Union Male Under-16 Tournament held from November 17th to November 23, 2015, in Managua, Nicaragua.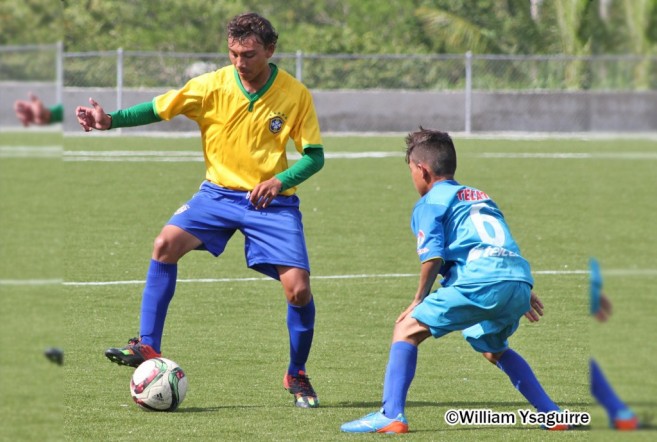 Pou's family has expressed their happiness to see their son once again heading to Belmopan for the trials and have the opportunity to represent the country at the regional tournament. They stand behind him support his dream to become a great footballer one day.
The upcoming tournament will feature teams from all over Central America competing for the top prize of the championship.
The list of players making up the Belize delegation are Ian Pou, Alvin Mangandi, Abner Howard,
Devin Nunez, Enfield Arzu Nunez, Kendale Nunez, Michael Robinson, Daren Apolonio, Ainsleigh Perez,Jalen Budna, Korey Gomez, Nazin Aldana, Alexis Chan, Zerrick Cabral, Hasan Serrano, Elton Gordon, Tarike Muschamp, Jalen Mayers, Gabriel Ramos, Cristhian Bush, Davis Marshall, Richard Hines, Jessie August, Jemario Sanabria, Shaquelle Matute, Brandon Musa, Steven Gentle, Joseph Ramirez, and Rayan Jones.
Follow The San Pedro Sun News on Twitter, become a fan on Facebook. Stay updated via RSS