Belize National Softball Team U-22 Sub-Champions; SPHS part of the team
Wednesday, November 9th, 2016
The sports skills of San Pedro High School (SPHS) athletes have once again put Belize in the spotlight. Three SPHS students, Jucely Badillo, Nayeli Longsworth, and Steviana Moreira joined the National Female Softball Team at the 13th U-22 Softball Female Championship held on Saturday, November 5th and Sunday, November 6th in Esperanza Village, Cayo District. After two days of challenging matches, the home team claimed second place in the competition and the opportunity to represent Belize at World Baseball Softball Confederation U-19 Junior Women's Softball World Championship in Clear Water Florida, USA in January 2017.

The three participating teams hailed from Costa Rica, El Salvador and Belize. The games had previously been arranged to take place in Belize City, at Roger's Stadium, but due to the inclement weather, they were moved to the Cayo District. On Saturday, the Belizean team faced Costa Rica and triumphantly won the match with a game score of 16-4. Later that day, they took on the team from El Salvador. Despite their good performance, the Belize Team was defeated.

During the second day of the tournament, the Belize Team once again defeated the Costa Rican team with a final score of 11-3. The results were all looking good for the local girls, but they had to play two more games against El Salvador. The Salvadoran Team managed to defeat the Belizean squad, but they still walked away in second place, becoming sub-champions of the tournament.
Badillo and Longsworth shared their experience at the competition with The San Pedro Sun, with both stating that they were nervous, yet excited during the competition at the national level. The trio had been training and attending the different required try-outs on the mainland before being selected. Both young players appreciate the opportunity given to them, saying that they learned much from their fellow colleagues, as well as from the members from the visiting teams.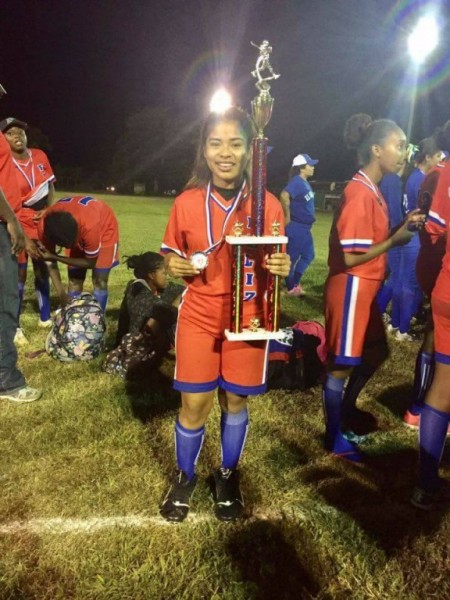 Special thanks go out to Derrick Jones, Jason Carlson, Andrew Shoman, Maiela Rosalez, San Pedro High School, Kate Corrigan, the players and the team's coaches for their tremendous support to the young players.
Follow The San Pedro Sun News on Twitter, become a fan on Facebook. Stay updated via RSS