San Pedro partners with FFB to grow the sport of football on the cayes
Thursday, April 27th, 2017
San Pedro's sport authorities are seeking assistance from the Football Federation of Belize (FFB) to standardize and develop the sport of football on the islands of Ambergris Caye and Caye Caulker. During a meeting held on Wednesday, April 26th at the San Pedro Town Council (SPTC) conference room, officials discussed the future of sports, including the separation of the cayes from the Belize District football committee.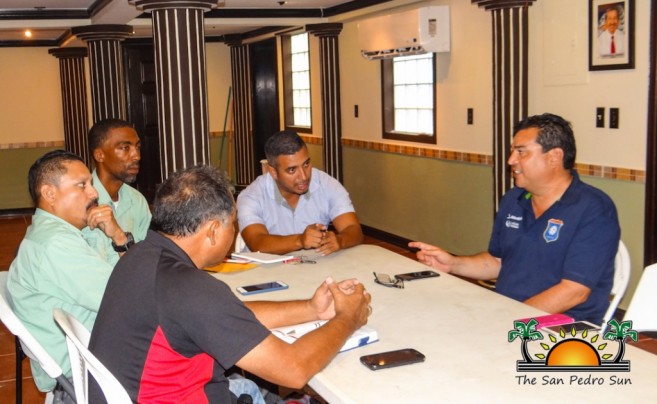 Present at the meeting were San Pedro Councillor in Charge of Sports, Hector "Tito" Alamilla, Chairman of the San Pedro Sports Committee Wilberto Magaña, San Pedro Sports Coordinator Kent "Bob" Gabourel, owner of the San Pedro Pirates Football Club (SPPFC) Emeliano Rivero, Captain of the SPPFC Jason Valladarez, SPPFC Head Coach Jorge Nuñez, SPPFC General Manager Ruben Francisco, SPPFC Media and Marketing Officer Janelle Cowo, FFB Acting President Marlon Kuylen, FFB Director of Refeerring David Jones, FFB Director of Competition Idamuel Moss, FFB Communications Director John Palacio, FFB Development Director Renein Couoh and FFB Marketing Director Raineldo Guerrero.
While football is the main sport practiced in San Pedro, the island has not always been recognized by the FFB. According to Kuylen, San Pedro and Caye Caulker have often been overlooked by FFB in regard to competition, funding and recruitment, as the island falls under the larger Belize District. "It is time to start the process for San Pedro and Caye Caulker to become its own football district. It will take time, but we are here to assist – be it financial – to get these programs off the ground," said Kuylen. The ultimate goal is for the cayes to become its own statutory body within the FBB.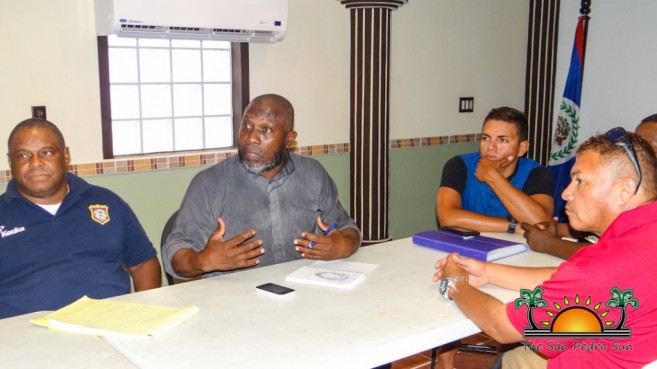 Councillor Alamilla believes that if the cayes become a football district of its own, the football talent will be better recognized at the national level. "San Pedro has potential when it comes to football. For years we have been holding tournaments to promote football. What we lack is assistance at the national level. If we become a recognized football district, I believe we can get better assistance from FFB. We have to work hand in hand if we want to continue to grow. San Pedro has the structure to operate independently from the Belize District and it will benefit our island players," said Alamilla.
As FFB's Marketing Director, Guerrero explained that in order for football to continue growing, other aspects of the sport need to be entertained, especially in the tourist sector. Sports tourism is a major industry in many countries, and Guerrero believes the cayes have the potential to use football to attract visitors. "The more you are able to attract other teams to come and play your home team, then the more sales and business you will have for the community. When you look at it, FIFA related events are leading in the tourism industry. When football is seen as a tourism product, it also attracts more sponsors, because their business name will be out there and they will get lots of mileage from it," explained Guerrero.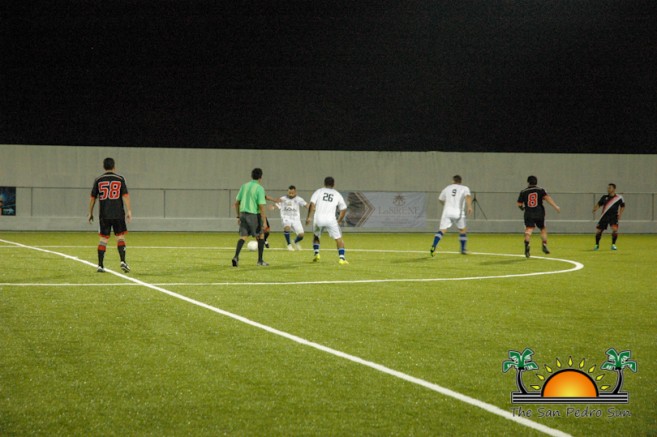 Also discussed was the upcoming licensing of the San Pedro Pirates as a recognized football club in Belize. Once the SPPFC is officially registered and licensed, they will be able to represent the cayes at the Premier League of Belize. Currently, the team is awaiting the completion of the Ambergris Stadium to finalize the licensing process.
The meeting proved to be very productive, as both the SPTC and SPPFC were provided with the necessary guidelines and information needed to meet their goals.
For more information on the Football Federation of Belize contact phone number 822-3410/3717, email [email protected] or visit footballfederationbelize.com
Follow The San Pedro Sun News on Twitter, become a fan on Facebook. Stay updated via RSS