Five-a-side Football Tournament: Week 5
Wednesday, June 14th, 2017
The San Pedro Town Council 5-a-side Football Tournament is rolling into its sixth week of sporting action. Once again large crowds gathered at the Honourable Louis Sylvestre Sporting Complex on Friday, June 9th and Sunday, June 11th to enjoy another set of games in the male, female, U-15, U-13 and U-10 divisions.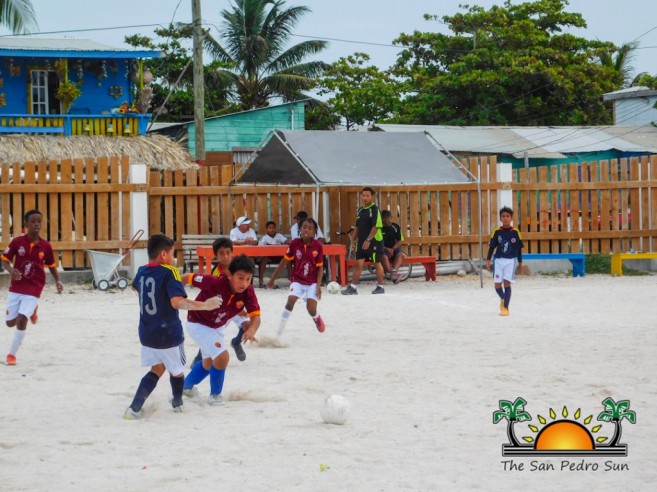 Friday's first games featured the U-15 teams, with comfortable leads for the winners. The first set of games ended up with the following results: San Pedrito Strikers 2 vs Los Catrachitos 0, San Pedro Pirates 3 vs Caribeña 1
Later on, it was the male division's turn. After three fun matches, the scores were: Jokers 4 vs Costa Boys 2, Los Catrachos 7 vs Tuff Strikers 0, Sea Star Strikers 2 vs Rough & Tough 2.
On Sunday, the U-10 took to the field first, giving their all much to the delight of their fans. The scores at the end of the first games were: Belize Pro Dive 2 vs FC Larubeya 1, Pirates Manchester 7 vs Pirates FC 2.
The U-13 teams were up next, with a sweeping victory for San Pedro Pirates against San Pedro Pirates Jr, with a final score of 5-0. FC Larubeya was also victorious against PSG, with a 5-2 point game.
Afterwards the teams in the female division took to the pitch, delivering two heated matches that saw some excellent football. SPHS Girls #1 scored 4-0 over SPHS Girls #2, and the Island Strikers got 5 goals past SPHS Girls #3's 1 goal.
Closing the evening was another round of games in the male division. Two intense matches featured Peacemakers drawing 2-2 against Tropic FC, while Terror Squad soundly beat the Rookies 4-1.
Games continue this week, starting on Wednesday, June 14th at the Honourable Louis Sylvestre Sporting Complex, starting at 7PM.
Follow The San Pedro Sun News on Twitter, become a fan on Facebook. Stay updated via RSS