Belize Fitness to hold first Cancer Run
Saturday, June 17th, 2017
Seeking to raise awareness on cancer and show solidarity to support those battling cancer, Belize Fitness will be hosting its inaugural 5K Cancer Run on Saturday, July 1st. Belize Fitness is the newest gymnasium on Ambergris Caye, located in the Sancas Plaza,. Not only will the run be a celebration of life and life after cancer, but it will also honor all those who have lost the battle. Thus, individual runners and teams, along with walkers of all ages and skill levels, are invited to participate. For a $20 registration fee, runners/walkers will be provided with a number, a dry fit shirt, breakfast, and drinks.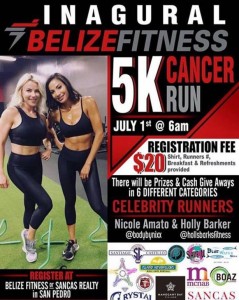 Starting at 6AM, participants will make their way from the start point at Sancas Plaza, located directly in front of Tropic Air on Coconut Drive, along the designated route to Black Coral Street and Nurse Shark Street. They will then turn onto Pescador Drive, heading over the Sir Barry Bowen Bridge towards the North Ambergris Caye Police Booth, then returning to the starting point.
To add more thrill to the event, celebrity runners Nicole Amato and Holly Barker will be participating in the Run. Amato is from Ookala, Hawaii, and is an international model who enjoys running, yoga, ballet, and sports. Originally from Whitewood Saskatchewan, Canada, Barker now resides in Regina Saskatchewan, Canada, where she is pursuing her passion in fitness.
Gil Castillo, President of Sancas Realty and Christie's Realty, explained that the run was inspired by his nephew's battle with cancer. "He went to get a checkup for a routine cough, and was diagnosed with Mediastinal Lymphoma at the age of 24. He has gone through two series of Chemotherapy, followed by Immunotherapy and a stem cell transplant, which involved more radiation and chemotherapy. His battle has lasted 13 months, but with much prayers, it seems that he will overcome," said Castillo.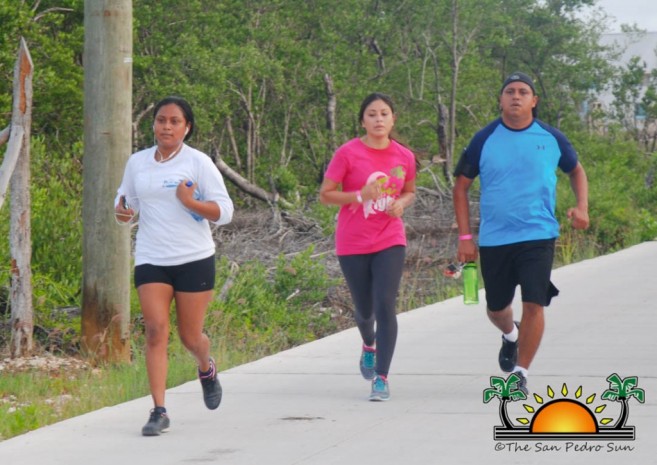 "Whether it's a friend or family member, cancer has at some point, affected all of us. As this story attests, cancer can hit anyone in any age group or in any demographic of life. During this life-changing battle, patients can often get overly consumed combating medicinal side effects, managing treatments and recuperating from surgeries, which can be hard to remember how to survive once it's all over," said Castillo. As all proceeds benefit the San Pedro Cancer Society, Castillo stated that these funds can assist in research that will help alleviate, control, or even prevent cancer.
Belize Fitness is hoping that the community can come together and support this worthy cause. Prizes will be given in six different categories, along with cash giveaways, and gift bags. T-shirts with be on sale for $30.
If you are interesting in participating, you can pre-register either at Belize Fitness Gym on the 3rd Floor of the Sancas Plaza or at Sancas Realty office in front of Tropic Air, or for more information, please call 226-4813 or 602-1293. For those who are not on Ambergris Caye, but would like to contribute to the cause, you can donate on Go Fund Me at: www.gofundme.com/kphv7x-belize-fitness-5k-cancer-run
Follow The San Pedro Sun News on Twitter, become a fan on Facebook. Stay updated via RSS