San Pedro Turtles are Belize's 2nd Annual Beach Rugby Tournament Champions
Wednesday, March 21st, 2018
San Pedro Turtles claimed the championship title at Belize 2nd Annual Beach Rugby Tournament 2018 held at Lazy Lizard Bar & Grill in Caye Caulker on Saturday, March 17th. The tournament saw five teams competing for the coveted championship title. All three island teams that participated did incredibly well, with the San Pedro Hammerhead Sharks placing second and San Pedro Snails taking the third place.
The first match of the day saw San Pedro's Hammerhead Sharks facing the Belize City Spartans. It was a clear victory for the Hammerhead Sharks, who trumped the Spartans 30-10. The following match saw the San Pedro Turtles taking an easy 51-20 point victory over Kings Park Knights. Thereafter, the San Pedro Snails took on the Belize City Spartans in a tight match that saw the Snails emerging victorious with a 36-20 point total.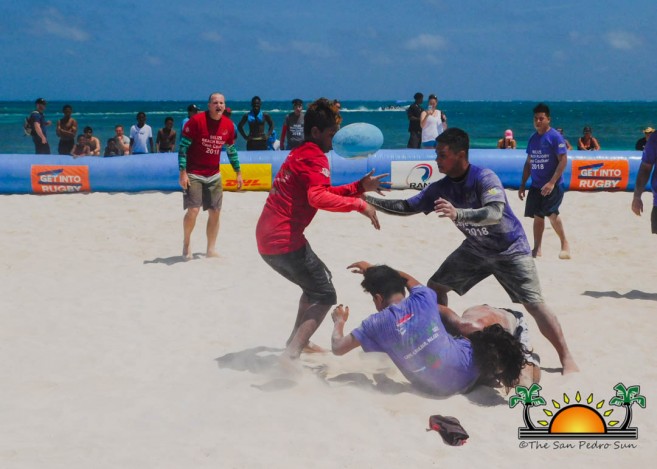 The second round of matches then pitted the San Pedro Hammerhead Sharks against the San Pedro Turtles. With a 30-20 final score, the Hammerhead Sharks took the victory. Following them was a tight match between Kings Park Knight and Belize City Spartan. Despite a first-half control by the Knights, the Spartans stepped up their game in the second half and was victorious with a 30-25 final score. The third game saw a solid win for the San Pedro Turtles, as they trumped the San Pedro Snails 65-25.
The last round of matches saw San Pedro Sharks winning 15-0 over Kings Park Knights, and the San Pedro Hammerhead Sharks defeated San Pedro Snails with a 60-30 final score.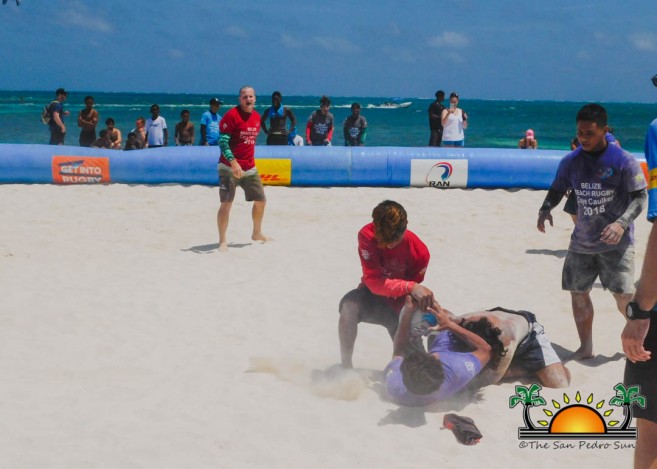 After all the games had ended, the total points accumulated throughout the day were tallied, and the team with the most points was named the champion. With a grand total of 176 points, the San Pedro Turtles were officially named the 2nd Annual Beach Rugby Tournament Champions. "Most Valuable Player" was Ruben Olivarez of the San Pedro Turtles. In second place was the San Pedro Hammerhead Sharks, with 135 points, and rounding out third place were the San Pedro Snails, with 96 points. With 60 points total, the Belize City Spartans placed fourth, and in fifth place with 45 points were the Kings Park Knights. Founder and coach of the San Pedro rugby teams, Adrian Ryan was proud of his teams. "All three teams really stepped up and showed what San Pedro can do. It was clear from every match that the San Pedro teams had complete control of the ball," he said.
The sponsors of Belize 2nd Annual Beach Rugby Tournament 2018 included: Offshore Solutions Group Limited, DHL, Diamond Lodge, Bowen & Bowen and Lazy Lizard Bar & Grill. Organizers of the tournament thank all participants, spectators, and sponsors for making it a success. Big thanks also go Lazy Lizard for hosting the event. The San Pedro Sun congratulates all participants, especially the island teams, for their excellent participation in the 2nd Annual Belize Beach Rugby Tournament.
Follow The San Pedro Sun News on Twitter, become a fan on Facebook. Stay updated via RSS