San Pedro Second Annual Coconut Cup a success!
Saturday, December 8th, 2018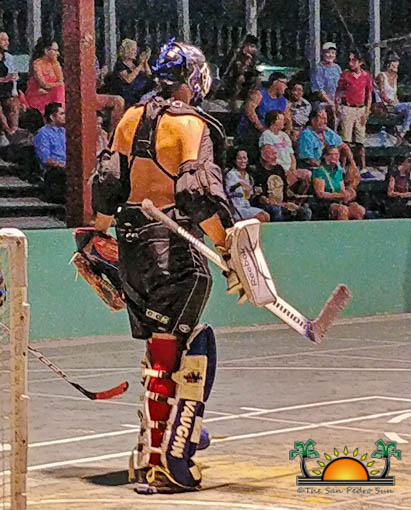 Island residents and visitors enjoyed San Pedro's Second Annual Coconut Cup held at the Angel Nuñez Auditorium from Friday, November 30th to Saturday, December 1st. The Hockey tournament was organized by San Pedro Buccaneers Hockey Team and saw the participation of two teams from Withrow Park Hockey Club in Toronto, Canada and two from San Pedro Town.
The Coconut Cup officially opened with a short ceremony at 4PM on Friday, November 30th. The ceremony began with students from the Island Academy School singing the Canadian National Anthem followed by New Horizon Seventh Day Adventist School students singing the Belize National Anthem in different languages including Garifuna. The first match followed, Canada team one came out victorious over the San Pedro Buccaneers team one with a 7-1 score. In the next match, the Canadians team two took another victory with a 5-0 score against San Pedro's Buccaneers team two.
The following day, on Saturday, December 1st saw another day of hockey. A 'round robin' of games occurred throughout the day with varying scores culminating in a final decision to select the best. The first match, starting at 9AM, saw Canada team one against Canada team two in a tight match that ended in a 3-3 draw. In the next match, San Pedro team one took an easy victory against San Pedro team two. Canada team two then took on San Pedro team two in a fierce match that saw the best of both teams. At the end of the match, it was a victory for Canada team two with a 5-2 score.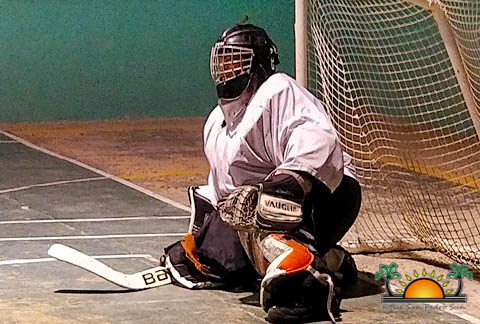 The next match then saw Canada team one coming out victorious with a 6-3 score over San Pedro Buccaneer team two. There was a brutal effort by both sides in this fiercely contested rivalry. The atmosphere was electric as both sides battled with both teams scoring in succession. The championship match saw San Pedro team one going against Canada team one for the title of the Coconut Cup 2018. There could only be one winner, and sadly for the Buccaneers, the visiting Canadians continued their winning streak, taking the coveted Coconut Cup with a 4-2 score.
According to a player of San Pedro Buccaneers Hockey Team and organizer of the tournament, Vic Murphy, "The Canadians clearly were a force to be contended with having been in several tournaments including four International events within the past 12 months (all of which they won!) As we went into battle, the visitors did not disappoint, winning both of their first two games convincingly. We had to re-think our strategy, perhaps load them up with copious amounts of alcohol before the games the following day."
The main goal of San Pedro Buccaneers is to grow this tournament yearly with more teams entering from different countries. Anyone can join the San Pedro Buccaneers (it is free) and enjoy the social camaraderie while keeping fit as well as having fun. "Events like these have many financial impacts including the purchase and replacement of equipment, all of which are used freely throughout the year by local children and adults alike. Often it has been necessary to purchase playing shoes for those wishing to play but can't afford the necessary footwear. The same applies to team shirts, and so the list goes on. It is only because of the very generous support of local businesses that the San Pedro Buccaneers were able to put this Tournament together for the benefit of the whole community," said Murphy.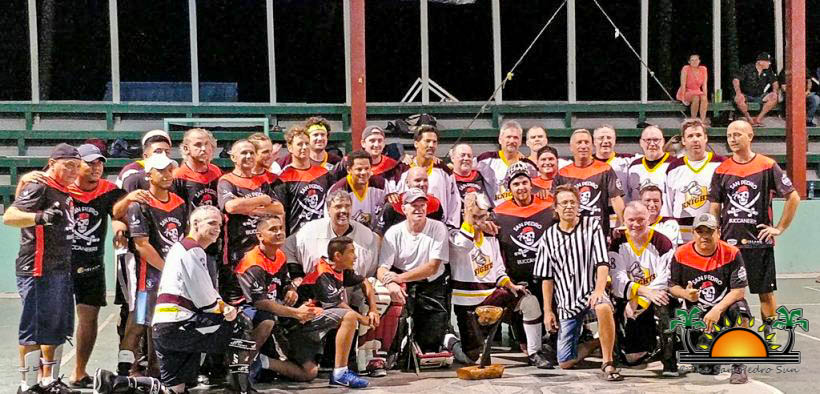 The Tournament was a roaring success made possible by all those participating in various roles on and off the court, and by those who supported the event financially or otherwise. Special thanks go out to all those who contributed to this event, Lily's Treasure Chest Restaurant & Bar, Wayo's Beach Bar, Caribbean Villas, Sandbar Beachfront Hostel & Restaurant, Caye Casa Boutique Hotel, Lola's Bar & Grill, The Truck Stop, Paco's Tiki Bar, Island Dream Tours (YOLO), Estel's Dine by the Sea, Caye Coffee Roasting Company, Belikin (Bowen & Bowen), Carlo & Ernie's Runway Bar. A final thank you goes to all the spectators who came out to support, cheer and applaud. It made for a fantastic atmosphere. San Pedro Buccaneers are already gearing for next year's tournament to be bigger and better!
Follow The San Pedro Sun News on Twitter, become a fan on Facebook. Stay updated via RSS