Baybee Lopez and Hasiem Valerio recognized for outstanding sports performance while at SPHS
Thursday, June 25th, 2020
Two recent graduates (and athletes) of San Pedro High School (SPHS), Baybee Emma Lopez and Hasiem Valerio, were awarded on Wednesday, June 24th, by Councillor Hector 'Tito' Alamilla for their outstanding performance in sports throughout high school. They were presented with a Certificate of Recognition, and each received $500 BZ towards their tertiary level studies.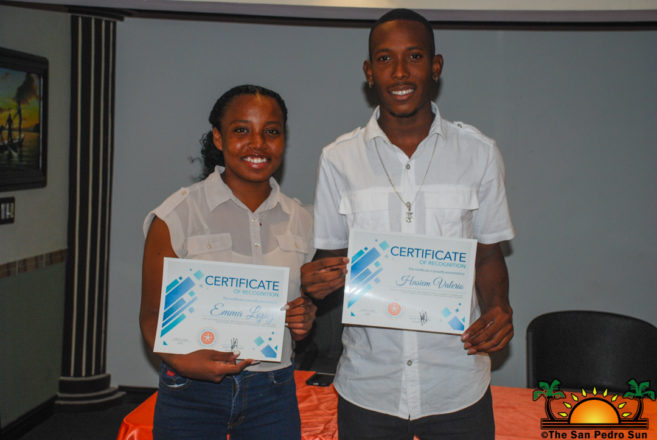 In a brief presentation inside the San Pedro Town Council's conference room, Councillor Alamilla, in charge of the Sports Portfolio, addressed a small gathering of guests and the awardees. He shared that his high school days included recognitions for his sporting performances.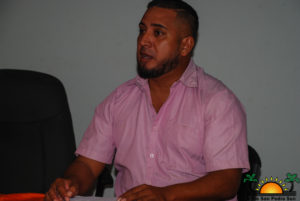 Thus, he saw it right to recognized the hard work of Lopez and Valerio, who made a significant contribution to SPHS in the area of sports. "These athletes displayed their talent for four years during their secondary education," said Alamilla. "The $500 contribution is towards the tuition to the college of their choice. We are doing this because it has been proven that athleticism builds confidence, strong character, and the ability to work in a team. All these characteristics have made some famous athletes resounding world leaders." He mentioned examples like Filipino boxing icon Manny Pacquiao, former bodybuilder and movie star Arnold Schwarzenegger, Mexican footballer Cuauhtemoc Blanco, among others.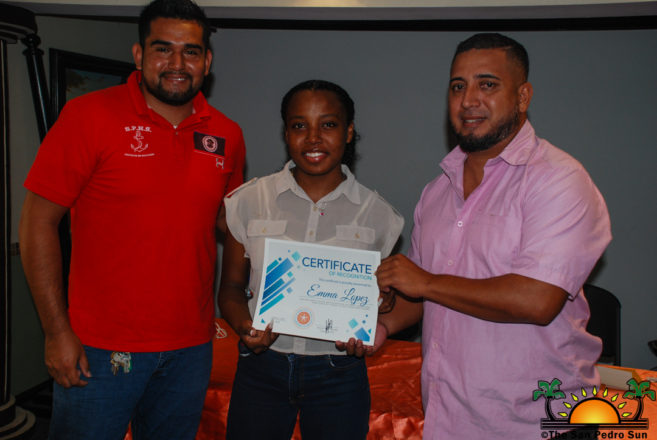 Alamilla shared the track record of each athlete beginning with Lopez. From 2016 to 2020 and based on information coming from SPHS, Lopez helped the school win one football national championship, and three regional championships, one regional volleyball championship, one regional softball championship, and two national championships in basketball.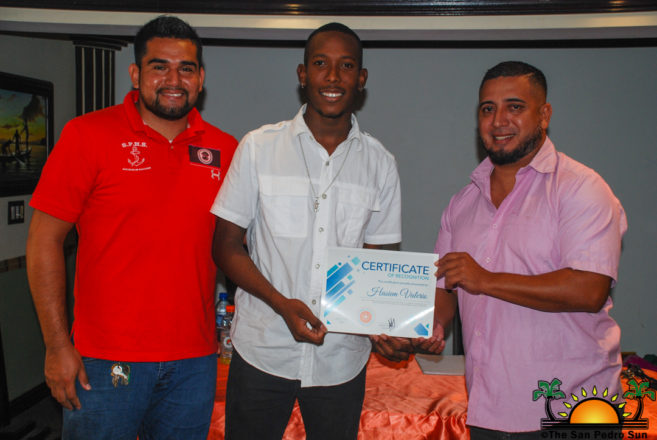 Valerio's sports performance credits him with two national softball championships, one regional football championship, two gold medals in 100- and 200-meters track and field competitions, and one gold medal in the 400-meter relay competition.
Lopez and Valerio shared that sports are one of their passions and encourage other athletes to make it their daily routine. The pair took the opportunity to thank everyone who has helped and supported them.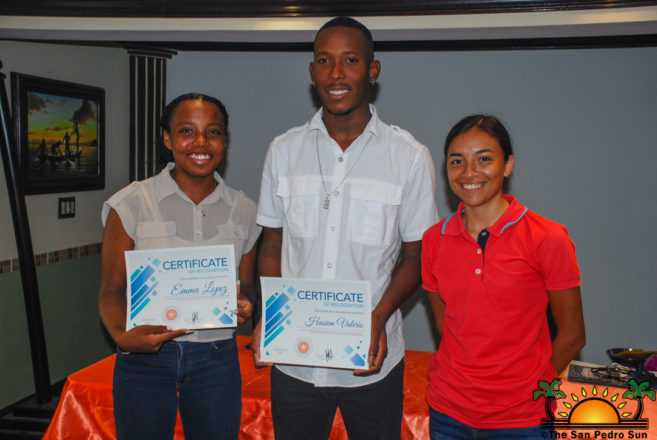 Joining them at the ceremony was island footballer Ada Cordova, who has represented the island and country in international sporting events.
After the presentation of certificates, Alamilla, on behalf of the SPTC, San Pedro Sports Committee, San Pedro Sports Council, the San Pedro Business Community, and Honourable Manuel Heredia, once again congratulated Lopez and Valerio and wished them the best as they move on to college life. Valerio will be attending Centro Escolar Mexico Junior College in the Corozal District, while Lopez will be attending the University of Belize in Belmopan City.
The San Pedro Sun joins the island sporting community in congratulating Lopez and Valerio on a job well done!
Follow The San Pedro Sun News on Twitter, become a fan on Facebook. Stay updated via RSS