San Pedro Traffic Control Committee commences Traffic Safety Campaign
Saturday, April 7th, 2012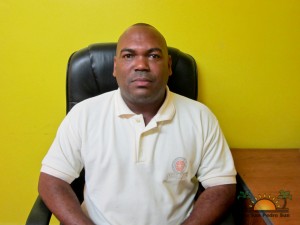 With the number of motor vehicles on Ambergris Caye in the thousands, the new San Pedro Traffic Control Committee SPTCC has embarked on an ambitious "Traffic Safety Campaign" to bring the traffic situation under control. Elected councilor to the San Pedro Town Council Kenrick William Brackett, whose portfolio includes Vice Chair of the SPTCC, spoke to The San Pedro Sun regarding the new campaign.  "We are pretty much aware of the traffic situation. We are aware of the things that have been happening. We think that things have gone a little bit out of control and we need to curve that."
The committee has embarked on several strategies to achieve their goal. The first is the issuing of flyers that are distributed through golf cart rental business. The flyers outline specific violations, stating: NO to Underage Driving; NO to Drinking and Driving; NO to Speeding; NO to Reckless Driving; NO Excessive Noise. The flyer also promotes ALWAYS have a driver's license while driving a motor vehicle and ALWAYS wear a helmet when driving a motor cycle. The flyer also outlines road-worthy safety features such as working horns, lights, mirrors, etc and proper seating for ALL passengers, specifically warning against babies being carried on the laps of drivers.
One of the more visible moves by the committee is the hiring of two additional Traffic Wardens. Brackett informed, "Firstly I must say in transportation, in the traffic department, we are hiring two new wardens. I would like to get about four to six more new wardens but we're going to start with two and we think that is a step in the right direction."
The new wardens along with the two wardens presently tasked with monitoring the traffic situation on the island will be receiving new training that will enhance their effectiveness as they perform their daily duties. Brackett continued, "I have spoken to Assistant Superintendent Robinson who is the Officer in Charge of the San Pedro formation who will be training the wardens. She comes here highly recommended and she has a lot of experience in the department of traffic. We are going to be doing a lot of other trainings with her. I am happy to say that we are going to be working very closely with the police department." Training for the wardens started on Tuesday, April 3rd when they attended a one-hour training on "Driving under the Influence" with ASP Robinson.
Driving motorcycles safely and the wearing of helmets is one of the items high on the list of concerns for the committee.
"Most of all anyone riding on a motorcycle must wear a helmet. Loud music - we're not going to tolerate loud music; there will be no excessive loud music. We will be checking on lights, horns, mirrors, etc. We are highly discouraging babies being carried on the laps of drivers. This practice affects your driving. We want to encourage your public to just be careful. We also especially ask that all public officials, government workers to take the initiative and show the example by following these traffic regulations. If riding a motorcycle, wear your helmets. I assure you that we will be giving you tickets."
The committee has also placed six over-street banners in and around San Pedro Town promoting safe driving. The SPTCC highly discourages multiple vehicles for single family homes. The SPTCC encourages if absolutely a necessity, that business owners get smaller vehicles. The SPTCC hopes to raise the level of integrity of the department, increase the efficiency of the traffic wardens and acquire the services of a Traffic Prosecutor.
Tickets will be issued to anyone caught violating the traffic regulations. Violations are expected to be paid within time stated. If payments are not received, individuals will be prosecuted. Drinking and Driving is one of the more serious offences that the committee will be looking at. "It's against the law to drink and drive, period. If caught drinking and driving, you will be ticketed. Your vehicle can be impounded. I have to look more into the law to see exactly what the penalties are for that offence. Drinking and driving is a very, very serious offence as it can lead to accidents and loss of life. We want to protect our citizens," commented Brackett.
Further to this, the committee also has workers re-painting the street corners and speed bumps. "If you park your vehicle on a corner where the red lines are, you will be ticketed."
Kenrick concluded stating;
"We want this to be a safe Easter for everyone. We want the traffic flow to be good and we also want people that come here and that live here to have a happy and safe Easter. If issued a ticket and you need further clarification, please feel free to contact us about it and we will be more than happy to sit and chat with you about your ticket. We welcome suggestions from the public. Most importantly, we ask the general public to respect our wardens. Please be considerate of the workload of our wardens and know that we will be working very closely with the Police department, especially over the Easter weekend. We definitely just want to educate everyone about traffic safety on this island and we want to emphasize on that."
Follow The San Pedro Sun News on Twitter, become a fan on Facebook. Stay updated via RSS