Ministry of Works and Transport Holds quarterly Technical Staff Meeting
Friday, January 17th, 2014
PRESS RELEASE
Belmopan. January 17, 2014.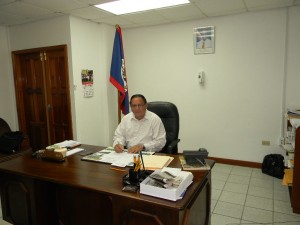 On Thursday, January 16, 2014, the Ministry of Works and Transport held its quarterly Technical Staff Meeting. Present were Honourable Rene Montero, Minister of Works and Transport, Chief Executive Officer, Mr. Errol Gentle, Chief Engineer, Mr. Lennox Bradley, Engineers, District Technical Supervisors (DTS), Assistant Technical Supervisors (ATS), other Technical Staff as well as Senior Staff from the Administrative and Accounts Sections. The Minister commended the staff for work well done during 2013, but emphatically mentioned the projected works in the pipeline to deal with civil works in the North to mitigate the effects of the recent rains as well as other "Hot Spots" countrywide. Making reports were Zone Engineers, DTS's, PEU (Project Execution Units) Flood Mitigation and the Accounts Section.
 Current projects are being carried out by the PEU handling the E.U. Funds in the North and South of the country.
 The Flood Mitigation Project in Belize City (IDB Funds)
 The National Infrastructure Project funded by Government of Belize.

The meeting was chaired by the Chief Engineer. The Minister, CEO and Chief thanked all who attended for coming and again reiterated their anticipated cooperation from every member of staff to work tirelessly to mitigate the effects of the recent rains as well as carry out their normal duties.
Follow The San Pedro Sun News on Twitter, become a fan on Facebook. Stay updated via RSS