BTIA offers Social Media and SEO Workshop
Friday, May 27th, 2011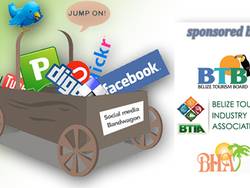 The Sunbreeze Conference room was the venue for the first in its series by Belize Tourism Industry Association (BTIA), Belize Tourism Board (BTB) and Belize Hotel Association (BHA), entitled Social Media and Search Engine Optimization (SEO) Workshop.
Jim Scott; general manager at the Radisson Fort George and president of BTIA spoke a little of what the workshop entailed;
"This is a very interesting training on web optimization and social media; utilization of those tools within the context of our marketing and the tourism industry. For web optimization, we look at the tools and necessity to keep your website up to date. Search engine optimization, the analytic s and tools to do those functions with your website were major points of discussion as well."
This is the first workshop held in the country. This workshop was also offered in Belize City on May 18th and Cayo on May 19th. As for the participation of the attendees, Jim commented:
"There's a variety of current users and everybody seems to be very happy with the training. Some of them were a little overwhelmed with the amount of information. However, many have commented that they will need to change certain things that they do. Some of the participants are learning some new trades and some of them are starting their brand from scratch. At any rate I believe this is a really beneficial workshop."
One attendee informed The Sun after the training;
"I thought it was extremely educational, it was very informative and extremely well organized. It surpassed all my expectations. And I am anxiously awaiting the second part the training to be held in August. I already started applying some of the skills learned as we were able to do it in the training. I am really excited about going on my website and start applying everything they taught me for the website design."
The training teaches participants not just about advertising, but methods of enhancing their individual business sites. This drives more visitors and ties into the social media aspect of the training. The use of social network, such as Facebook, Twitter, Youtube and all other tools that are free, are all very helpful, because they all drive visitors to the website.
The organizers of the workshop are targeting all businesses throughout the country, including media houses, bloggers, tour operators, hoteliers, restaurateurs, dive operations; with tourism being the number one focus. For more information about BTIA's Social Media Workshop, please contact Mr. Thomas Blanco at tel: 501-227-1144 or via email at [email protected].
Follow The San Pedro Sun News on Twitter, become a fan on Facebook. Stay updated via RSS